"Manu Dibango Edition"

A funky journey through Manu Dibango's legacy.
He developed a musical style fusing jazz, funk and traditional Cameroonian music. He was a member of the seminal Congolese rumba group, African Jazz and has collaborated with many other musicians, including Fania All Stars, Fela Kuti, Herbie Hancock, Bill Laswell, Bernie Worrell, Ladysmith Black Mambazo or Sly and Robbie. This mix is also an african celebration.
The Trip
Kossa Kossa – The Souljazz Orchestra
The band from Ottawa signed to London-based Strut Records, a UK record label that focuses on dance music and afrobeat. Other musicians signed to Strut include Ethio-Jazz pioneer Mulatu Astatke, Motown guitarist Dennis Coffey and Ghdjanaian highlife singer Ebo Taylor, to name a few.
Ta Lassa – International Soleil Band
Composed by Gnamakoron Sidi Diabaté it was featured originally on an album released in 1983. This 12″ features an extended "Hide & Smile" edit. An extended intro of throbbing bass and keyboard interplay punctuated by classic Guinea guitar lines, metronomic drumming and 80s synth sweeps eventually drops into a more recognisable Guinean vocal outing.
Spies Are Watching Me – Voilaaa, Sir Jean
Pursuing their explorations in the vast corridors of international Funk and Disco music, Favorite Recordings and Bruno "Patchworks" Hovart present us Voilaaa. Surrounded by a very dynamic music scene, where there is no shortage of artists with African origins. A more than successful bet with a result surprising of authenticity alongside with Sir Jean.
Tata fatiguée – Vaudou Game
The band from Lyon in France with their charismatic singer Peter Solo from Togo quotes Afro-Funk as it was born in Benin and Togo in the seventies. There, where voodoo belongs to the folk culture and has left its ecstatic magic in the music as well. Frontman Peter Solo and his musicians uncompromisingly groove to the point of trance.
Agboju Logun – Shina Williams & His African Percussionists
Back in 1979 when Shina Williams "Agboju Logun" first appeared on his "African Dances" LP, Williams knew well that the track was breaking new ground. "I want to show the whole wide world that Africa is alive with modern musicians to reckon with anywhere" he stated. Now an accepted Afro disco classic of its time.
Hot Koki – André Marie Tala
Born in Bandjoun, West Cameroon. He lost his mother when he was 4 years old, and his father 12 years later. When he was 15, he went blind. Alone, although his grandmother took him into her house, he turned to one passion: music. He made his first recordings with the help of Manu Dibango. His first album "Hot Koki" was such a succes that James Brown plagiated the title song (Tala eventually won a court case). After that, many albums followed.
M'ongeule M'am – EKO
Eko Roosevelt Louis cut his teeth making jazz funk and disco records in the mid-seventies before extensive touring in and around France. In the 90's Eko returned to Cameroon to take over his grandfather's tribal chieftaincy, a role he still holds today. Eko also works with the Cameroun artistic societies and schools performing, teaching and even leading Cameroon's national orchestra.
Baara – Amadou & Mariam
Amadou lost his vision at the age of 16, while Mariam became blind at age 5 as a consequence of untreated measles. Known as "the blind couple from Mali", they met at Mali's Institute for the Young Blind, where they both performed at the Institute's Eclipse Orchestra. The couple of Mali have been travelling for many decades as ambassadors of the music of their homeland and with the World Food Programme as ambassadors against hunger. Let us wish them a long life in both.
É Só Você Escolher – Nilsa
Born and raised in the city of Beira, Mozambique along with her mother and 7 brother Nilsa has been living in Switzerland for 17 years and has released her fourth solo album titled "Salada Mocambiçana – Mozambican Salad" in 2019. In this album she has worked intensively with the traditional grooves and rhythms of her native land.
Odo Ankasa – Pat Thomas, Kwashibu Area Band
Known as "The Golden Voice Of Africa", Pat Thomas is a true Ghanaian highlife legend. Working with big bands including Uhuru Dance Band, Thomas became a domestic star through his '70s work with Sweet Beans, Ebo Taylor and Marijata.
Tahabort – Imarhan
Imarhan is an Algerian Tuareg desert rock quintet formed in 2006, in Tamanrasset, Algeria. They reflect their cultural and generational background. Dry guitar riffs and african rhythms which draw on traditional Tuareg music.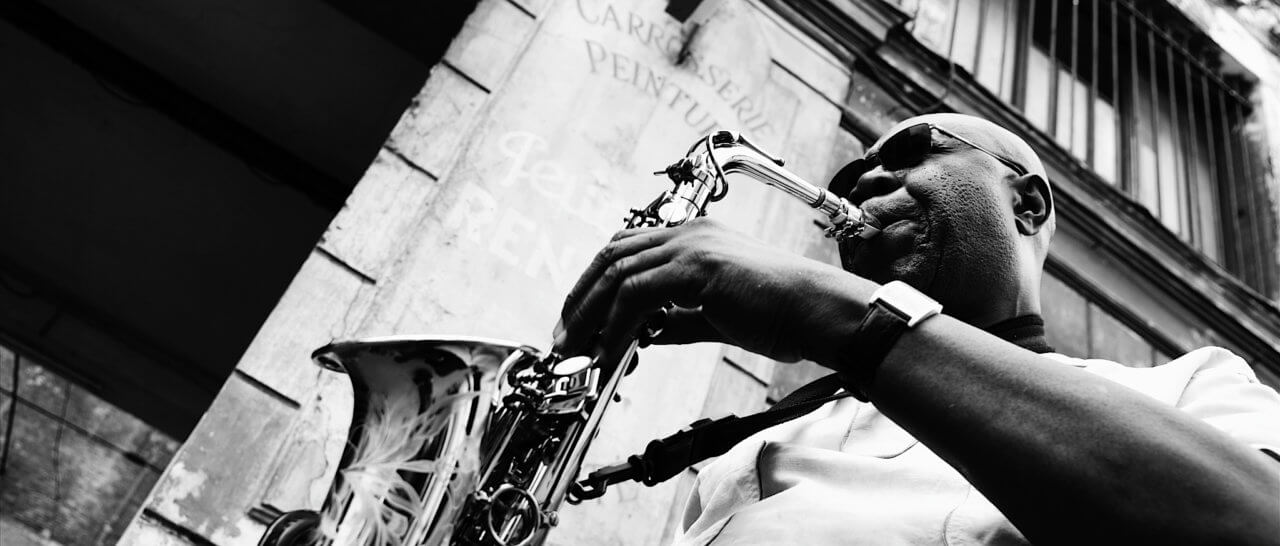 Goro City – Manu Dibango
With "Soul Makossa", the Makossa music style also became known outside Cameroon. We chose the amazing Track "Goro City" taken from the 1980's album "Gone Clear", featuring the cream of Jamaican musicians with Sly Dunbar and Robbie Shakespeare. A great symbiosis and collaboration.
This stuff grooves…
Can I know You – Afriquoi, Kakatsitsi
Live African Dance Music from London, combining African styles and musicians with contemporary UK electronic music. A cool sound actually.
Nimele Bolo – Charly Kingson
Charlie Kingue Soppo is better known as Charly Kingson, cousin of Manu Dibango and a Cameroonian emigrant in the 1970s. Charly first headed to Paris and then found his way to Munich in 1978. He recorded two albums in his career, "Born In Africa" in Munich in 1978 and "Dance To The Music" two years later in New York.
You No Fit Touch Am – Dele Sosimi, Medlar
Dele was raised in Fela Anikulapo Kuti's shadow at the height of early 70s afrobeat. He became Musical Director for both Fela's Egypt 80 and later Femi Kuti's Positive Force!
Afro Cookie – Renegades Of Jazz
"Afro Cookie" is the first single to be taken from David Hanke's album "Moyo Wangu". The first song has the distinctive Renegades Of Jazz sound, a modern Afrofunk anthem, which was also the starting point back for the "Moyo Wangu" album.

The Hot Kokis
Kossa Kossa – The Souljazz Orchestra
Ta Lassa – International Soleil Band
Spies Are Watching Me – Voilaaa, Sir Jean
Tata fatiguée – Vaudou Game
Agboju Logun – Shina Williams & His African Percussionists
Hot Koki – André Marie Tala
M'ongeule M'am – EKO
Baara – Amadou & Mariam
É Só Você Escolher – Nilsa
Odo Ankasa – Pat Thomas, Kwashibu Area Band
Tahabort – Imarhan
Goro City – Manu Dibango
Can I know You – Afriquoi, Kakatsitsi
Nimele Bolo – Charly Kingson
You No Fit Touch Am – Dele Sosimi, Medlar
Afro Cookie – Renegades Of Jazz
Hot Koki by Funkologie on Mixcloud