A journey of exclusive psychodelic funk performance.
Hear the Masters at work.
The champions of this raid
We're Gonna Have A Good Time – Rare Earth
This beauty was recorded 1972. Rare Earth was the first big hit-making act signed by Motown that consisted only of white members. "We're Gonna Have A Good Time" was a little pearl before the milestone of the band "Ma" was recorded (1973).

The Performer – Enri
A solo project lead by Italian Hammond maestro Enrico Zavalloni. Enri was the hammond player of the now-split-up band Vip200. At the beginning of the new millennium, Vip200 were the lounge scene top band in Italy. Much in demand around the globe, they released records with both Pizzicato Five and Maxwell Implosion.

I Like Funky Music – Uncle Louie, Walter Murphy
One of Walter Murphy's bands (of The Big Apple Band fame) produced just one disco album containing the excellent disco single "Full tilt boogie", featuring Wah-wah Watson on the guitar… Very nice record from 1979

Spread the News – The Perfect Circle
The Perfect Circle, was an Oakland, California based funk band active from 1975 until 1979. Known for "Bay Area Funk" emphasizing jazz, disco, psychedelics and horn arrangements. The Perfect Circle self-titled flagship LP release, now rare-vinyl, was the only official material released by the band.

Yum Yum (Gimme Some) – Fatback Band
The Fatback Band was founded in 1970 in New York City based on a concept by Bill Curtis. Curtis, an experienced drummer, wanted to bring together the "fatback jazz beats" from New Orleans in a funk band. The track was released 1975.

Hey Policeman! – Intrinsic Trance
Was part of the Série Parade Label and released 1976.

All American Funkathon – Willie Hutch
A versatile figure during Motown's "golden years," Willie Hutch penned hits for other artists, as well as issuing albums on his own. Hutch then produced albums for Michael Jackson and Smokey Robinson during the early '70s, during which time Hutch penned the soundtrack to the 1973 blaxploitation flick The Mack on his own. His impassioned tenor wraps comfortably around up-tempo material like "All American Funkathon" from 1979.

Rigor Mortis – Cameo
Released in 1977 in their debut album "Cardiac Arrest". In this instance "Rigor Mortis" is a euphemism for being lonesome on the dance floor.

My Thang – Roger Hatcher
Born in Birmingham, Alabama on 29th September 1946, his family moved to Detroit in the 50s. In the 1970's he recorded in Nashville Singer, Producer and prolific songwriter with 1238 work titles registered at BMI publishing. Brother of Will Hatcher, cousin of Charles Hatcher (Edwin Starr).

Jungle Fever – Bacao Rhythm & Steel Band
Bacao Rhythm & Steel Band is a German funk music ensemble founded by members of the Mighty Mocambos. Bandleader Björn Wagner played in funk group The Mocambos and lived in Trinidad and Tobago for a time, where he studied steel drums and had one custom made.

Instrumental #2 – Ripple
Twenty-two tracks on a new compilation released by BGP, Southern Groove: Hotlanta, Aware and Clintone Funk and Soul which is the first in a new series that examines the convergence of southern soul and funk during the seventies. Michael Thevis set about building his musical empire. Ripple also give us the unreleased Unknown "Instrumental #2" – a delicious slab of funk.

We Know We Have to Live Together – Eugene Blacknell, The New Breed
Blacknell was a funk guitarist, band leader and singer from the Bay Area. He was so much more than that though…the worlds of Black music and civil rights owe him an honorable mention, if not a debt of gratitude as he was also an activist on the music scene … This is a legacy to be proud of Mr. Blacknell.

Machine Gun – Commodores
The titular lead song has Milan Williams on clavinet, which led the Motown executive Berry Gordy to name the song "Machine Gun" as the clavinet work reminded him of gunfire. The Album was released for Motown in 1974.

Afro Strut – The Nite-Liters
Harvey Fuqua and Tony Churchill formed the Nite-Liters in 1963 in Louisville. When the band subsequently expanded to 17 members, with a pair of vocal groups and a instrumental ensemble, they were renamed New Birth, although different configurations of the combined groups recorded under both names name until 1973, when the Nite-Liters name was officially retired.

Do You See What I See – The Bar-Kays
The Bar-Kays were originally formed in 1966 as a sextet and their biggest hit was "Soul Finger". They looked like they had a healthy career in front of them as a session band & recording outfit before the backbone of the group was killed, along with Otis Redding, in a horrific plane crash. The psychodelic "Do You See What I See?" was released in 1972.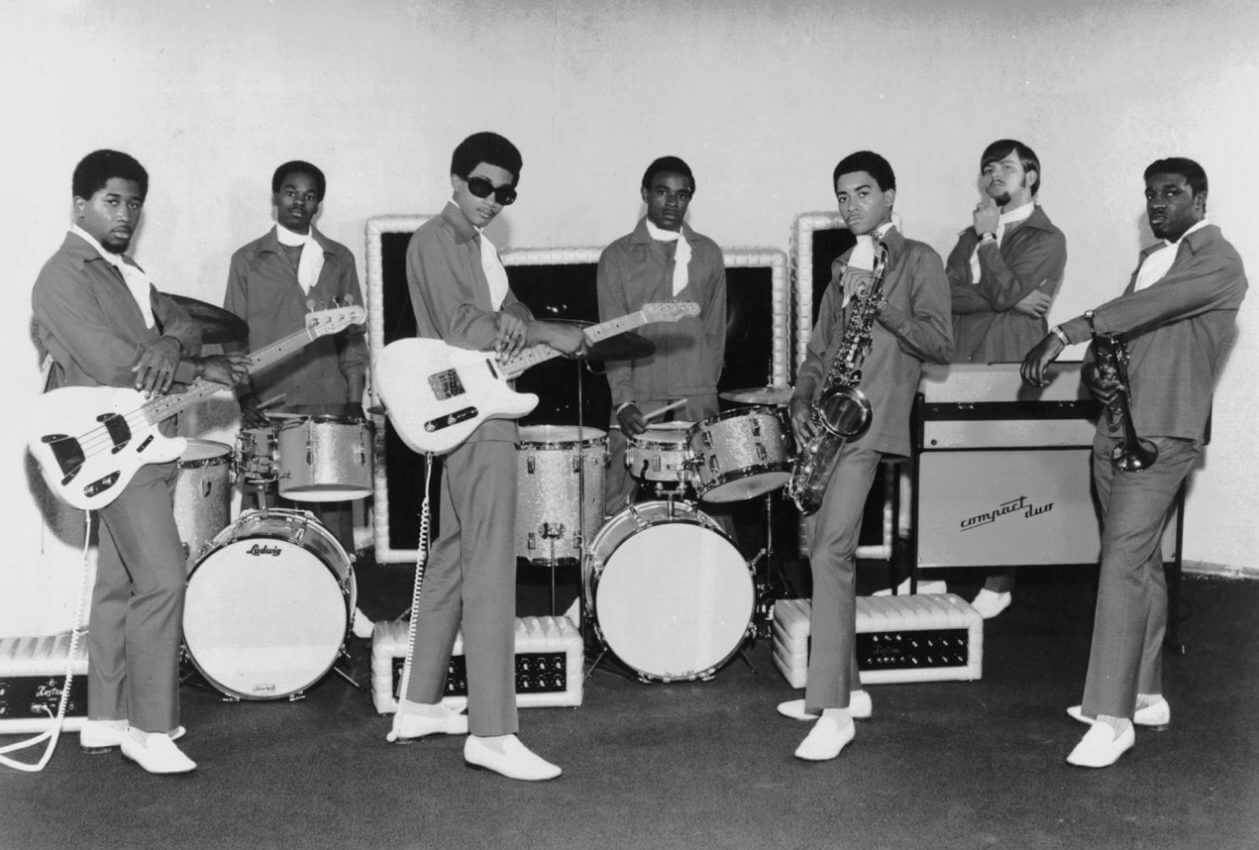 The Road – Communicators & Black Experience Band
Released on the Pearl "Carolina Funk" from UK-based Jazzman Records series that produced the landmark Midwest, Texas, and most recently, Florida Funk compilations. Curated largely by resident North Carolina researcher and collector Jason Perlmutter, Carolina Funk presents 22 of the best, rarest and most sought-after heavy funk songs ever recorded, with breakbeats to spare.

Nam-Myoho-Renge-Kyo – Tee Mac
Tee Mac Omatshola Iseli is a Nigerian flutist with cross-cultural Itsekiri and Swiss roots. The Song was reissued in 2016 to coincide with Nigeria Soul Fever (Afro Funk, Disco And Boogie: West African Disco Mayhem!).

Indian Rope Man – Noir
"We Had To Let You Have It" is the only recorded output from Britain's first all-black rock band Noir. A perfect blend of soul, R&B, rock, blues rock, with minor incursions into jazz. In their short career Noir had gigs opening up for the Rolling Stones and Cream. It sounds like an unpolished version of the Chambers Brothers and Rare Earth.

Green-Eyed Lady – Sugarloaf
"Green-Eyed Lady" is a popular single by the American rock band Sugarloaf. Written by Jerry Corbetta, J.C. Phillips and David Riordan, the song was featured on the band's debut album, Sugarloaf, and was their first single.

Playlist
We're Gonna Have A Good Time – Rare Earth
The Performer – Enri
I Like Funky Music – Uncle Louie, Walter Murphy
Spread the News – The Perfect Circle
Yum Yum (Gimme Some) – Fatback Band
Hey Policeman! – Intrinsic Trance
All American Funkathon – Willie Hutch
Rigor Mortis – Cameo
My Thang – Roger Hatcher
Jungle Fever – Bacao Rhythm & Steel Band
Instrumental #2 – Ripple
We Know We Have to Live Together – Eugene Blacknell, The New Breed
Machine Gun – Commodores
Afro Strut – The Nite-Liters
Do You See What I See – The Bar-Kays
The Road – Communicators & Black Experience Band
Nam-Myoho-Renge-Kyo – Tee Mac
Indian Rope Man – Noir
Green-Eyed Lady – Sugarloaf
A journey of exclusive Funky performance. Masters at work. by Funkologie on Mixcloud
RELATED LINKS:
Southern Groove: Hotlanta Aware & Clintone Funk & Soul
Carolina Funk