Funky selection about a lot of Vanities, Egos and Front End Romeo's.
Fully groove approved. Have you ever be experienced?
God made B Funky
I Feel Good – Duffy Jackson Orchestra feat. Johnny Apollo
Duff Clark "Duffy" Jackson is the son of Chubby Jackson, and played drums as a young child, making appearances with Count Basie, Duke Ellington, Woody Herman, and Buddy Rich before he finished high school. In 1971 he relocated to Los Angeles, where he played with Monty Alexander, Ray Brown, Herb Ellis, Lena Horne, Milt Jackson, and Barney Kessel. Following a tour of Japan with Benny Carter, he appeared on television for two years with Sammy Davis, Jr. (1974–1976). Later in the 1970s he played with Grover Mitchell and did a tour of Europe with the Count Basie Orchestra.

Vanity – Shirley Davis & The SilverBacks
It's a kind of ethio-funk-space-soundscape, perfectly punctuated by tightly arranged horns, rich in texture and detail and with some slick gear changes. It's this quality and blend of interesting styles the Madrid based band grooves with London-born singer Shirley Davis.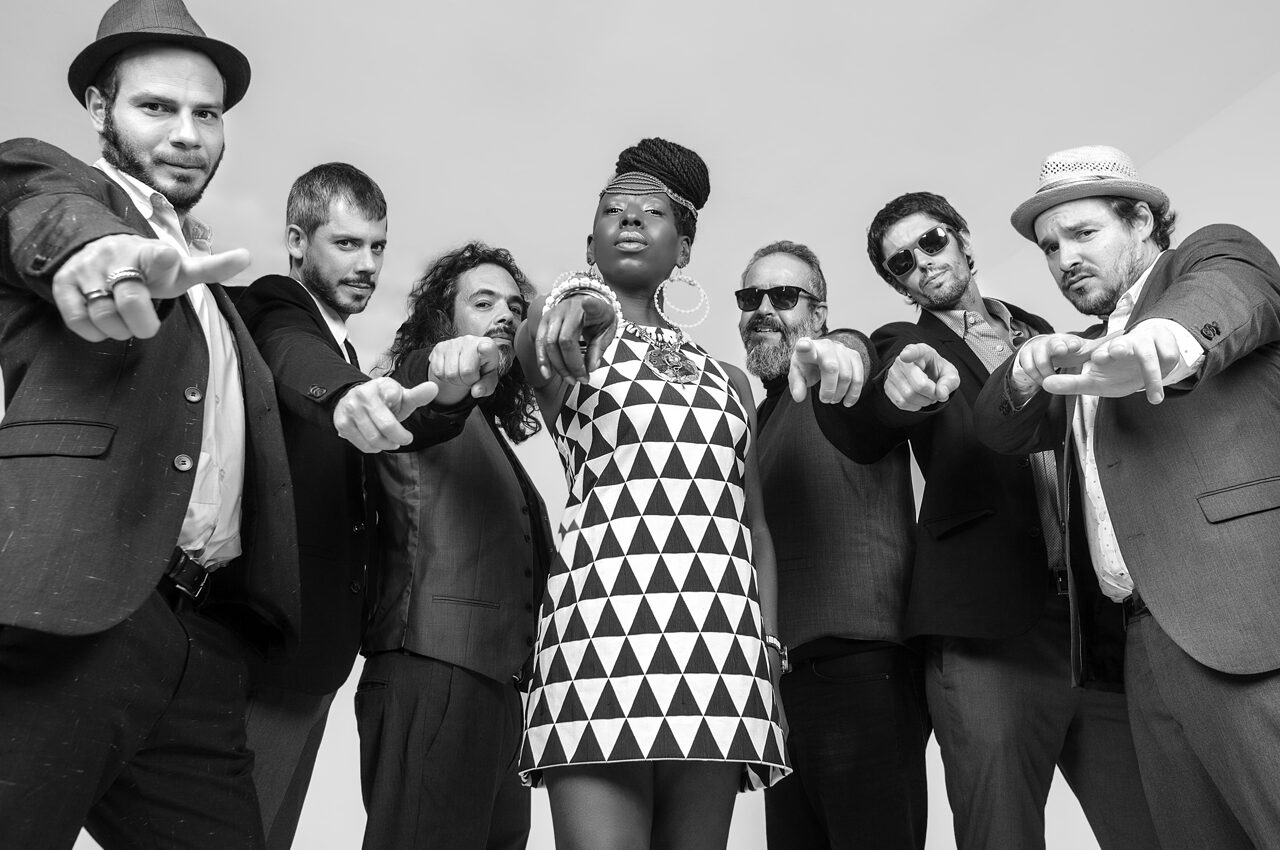 Front Row Romeo – Strutt
This is a tight, competent set of disco funk from Strutt, a short-lived band from New Jersey. The band seemed to vanish without a blip after this album's title track "Time Moves On" and went all the way to number one on the disco chart in 1976. Instrumentals full of organ swipes and horn blasts on "Front Row Romeo" which appears in both vocal and instrumental versions.

Sing a Simple Song – Boston Horns
Led by Garret Savluk (Trumpet) and co-founder, Jeff Buckridge (Guitar). The bands mix of original jazz / funk and soul covers has kept them on the scene performing in clubs, festivals.

My Mind Set Me Free – Houseguests
An early-1970s American funk group that consisted of bassist William Earl Collins, his older brother Phelps Collins, Jr. on guitar, Frank Waddy on drums, Clayton Gunnells on trumpet, and Robert McCullough on saxophone. House Guests was formed in 1971 after the Collins brothers left The J.B.'s During 1971 several members of Funkadelic quit, and George Clinton invited the members of House Guests to join Funkadelic in their place. Their unique contributions to Funkadelic's sound can be heard on that band's 1972 release, "America Eats Its Young".

What About the Child – Gold
Unheard by human ears since 1974, this is the super sound of psychedelic soul, dancefloor funk and soulful ballads astonishing for their power and beauty. Represed by Athens Of The North. Excellent Song from writer and producer Avelino Pitts.

You Got The Love – Rufus, Chaka Khan
Is a hit song for the funk band Rufus. It was written by Ray Parker, Jr. and Chaka Khan. From the "Rags to Rufus" album, it spent one week at number one on the Hot Soul Singles chart in 1974.

A Real Mother For Ya – Johnny "Guitar" Watson
Seminal electric blues & rhythm & blues guitarist of the mid-1950s. Performed with artists such as Little Richard and worked in synthesizer productions in the 1960s. In later years his work was a source for sampling by artists such as Dr Dre and Snoop Dogg. He also worked on a number of recordings and projects with Frank Zappa.

God Made B Funky – Bernard "Pretty" Purdie
Read more on Funkopedia.

E-Man Groovin' – The Jimmy Castor Bunch
American soul/funk/disco group with an occasional latin touch. Led by Jimmy Castor, also featuring Gerry Thomas who was at the same time member of The Fatback Band.

The Lookout – Nicholas Dover
Grew up in Scotland leading two separate musical lives – jazz saxophone and strictly non-jazz guitar. After school I went and studied jazz at the Royal Academy of Music in London for 4 years, then toured the world playing guitar with indie band, Grand National, for a good few years after that. Writing, recording and production have been my focus since then; making music for TV, recording & producing bands.
Features on Killertracks.

I'm Drunk & I'm Real High (In the Spirit of God) – Ada Richards
Taken from "Good God! Born Again Funk". A beautiful Sampler.
The Wild Root – Alan Evans Trio
Over the past years Alan Evans has honed his skills as a recording engineer, producer, guitarist, vocalist and writer. Armed with an abundance of inspired songs, Alan has decided to start a new band in a lineup he thrives in, the organ trio. To bring his vision to life, Alan has recruited two of his good friends and amazing musicians, guitarist Danny Mayer and organist Beau.

Get in a Hurry – Eugene Blacknell & The New Breed
Blacknell was a funk guitarist, band leader and singer from the Bay Area. He was so much more than that though…the worlds of Black music and civil rights owe him an honorable mention, if not a debt of gratitude as he was also an activist on the music scene … This is a legacy to be proud of Mr. Blacknell.

Theme For Five Fingers Of Death – Bunny Sigler
Writer and producer of the 1960s and 1970s, Bunny worked with disco artists and groups like Double Exposure, First Choice or Linda Clifford. However he was primarily concerned with his disco group Instant Funk, who provided the instrumentation for many of his solo records. Bunny Sigler was originally signed to Philadelphia International Records, but signed to the Gold Mind Records subsidiary label of Salsoul Records in 1977.

Hearing Things – Snooky & the Cosmic Flowers
"Snooky" Flowers, a saxophonist who most notably organized the Kozmic Blues Band for Janis Joplin in the late 1960s and performed with her at the 1969 Woodstock Festival. Taken from "Golden State Funk". Another great sampler.

Polk Salad Annie – Tom Jones
From 1969 until 1971, Jones had an internationally successful television show, This Is Tom Jones. Though his record sales tailed off during the mid-1970s, peaking in 1971 with his only US No. 1 hit, "She's A Lady", he remained a huge draw as a live performer. In 1970, Jones was the first solo performer to sell out Madison Square Garden.

Sister Charlotte Abbaye – Bernard Estardy
Bernard Estardy was one of the most prolific (and sought after) sound engineers in the French music scene during the 60's and 70's. After being involved on a number of sessions with Nino Ferrer, he took the initiative to build his own studio from scratch (the CBE as it's known, built in 1967). When he wasn't busy working on albums with popular French artists such as Francoise Hardy, Johnny Hallyday, etc .. Bernard was recording background music for French television, film and radio (not to mention composing weird concept albums, see: "La Formule De Baron"). Electro Sounds was a two-part 'mood music' series Estardy recorded for the popular Paris-based Tele Music library label in the early 1970's.
The Playlist
I Feel Good – Duffy Jackson Orchestra feat. Johnny Apollo
Vanity – Shirley Davis & The SilverBacks
Front Row Romeo – Strutt
Sing a Simple Song – Boston Horns
My Mind Set Me Free – Houseguests
What About the Child – Gold
You Got The Love – Rufus, Chaka Khan
A Real Mother For Ya – Johnny "Guitar" Watson
God Made B Funky – Bernard "Pretty" Purdie
E-Man Groovin' – The Jimmy Castor Bunch
The Lookout – Nicholas Dover
I'm Drunk & I'm Real High (In the Spirit of God) – Ada Richards
The Wild Root – Alan Evans Trio
Get in a Hurry – Eugene Blacknell & The New Breed
Theme For Five Fingers Of Death – Bunny Sigler
Hearing Things – Snooky & the Cosmic Flowers
Polk Salad Annie – Tom Jones
Sister Charlotte Abbaye – Bernard Estardy
Funky selection about a lot of Vanities, Egos and Front End Romeo's. by Funkologie on Mixcloud
RELATED LINKS: