"América Latina"
The first trip of funkologie 2020 trough latin funk'n'soul. From Chile to Cuba, Venezuela over New York's Spanish Harlem and San Francisco.
The Trip

Santiago – Newen Afrobeat
The music of the Chilean band Newen Afrobeat is a vibrant mix of musical cultures, an energetic take on the Afrobeat musical style made famous by Nigerian star Fela Kuti with a Chilean sensibility that's supported by a large horn section and an array of percussionists.
Comencemos (Let's Start) – Jungle Fire
The Jungle Fire band sound digs deep and resurrects classic afro/latin funk with an approach that is both authentic and highly explosive! The Los Angeles-based 10-piece TropiFunk juggernaut pulls its influences from the music of legends creating a melting pot of Afro-Caribbean and West African rhythms with a heavy break beat funk.
Soul Drummers – Ray Barretto
Ray Barretto's Latin/soul crossover record "Acid" includes a few tracks of his ebullient, instrumental salsa, but also plays off the boogaloo craze of the past few years with a few Latin soul numbers. Acid holds up nevertheless as a great document of the late-'60s confluence of Latin, funk, and soul. The percussive "Soul Drummers" is on the mix.
Nassau Jam – The Bahama Soul Club
The Bahama Soul Club are a German-based group whose unique blend of soul, jazz, funk, blues, bossa nova, afro and Caribbean influences has firmly put them on the map of the black music scene as one of the most exciting contemporary outfits. The band led by Oliver Belz started in 2005 under the former name of The Juju Orchestra. "Nassau Jam" is from 2008.
Funk that Mambo – Eliel Lazo
"Funk that Mambo" is a hot tune from 2016 from Eliel Lazo. Eliel Williams Lazo Linares is a Cuban percussionist, songwriter, composer, producer, jazz, rock, Latin and pop musician living in Denmark. Eliel is one of the most unique percussionist of these times.
Cucaraca Macara – The Harvey Averne Band
One of several prominent Jewish Americans in New York's bustling Latin music scene, Harvey Averne first cut his teeth in Catskills clubs. Descending back into New York City as "Arvito and His Latin Rhythms" Averne blossomed into a multi-talented vibraphonist, bandleader, producer and label owner. In spite of his prolific accomplishments, including classic productions for Ray Barretto and Eddie Palmieri — not to mention his own quartet of solo albums — Averne faded from the public consciousness when he retired from active recording in the mid-'70s. A new anthology finally does some justice to his long career, and inspires this sampling of his strongest works in Latin soul, rock and salsa. By 1971, the Latin rock sound pioneered by Carlos Santana out of the West Coast had spread throughout the U.S., and Averne was no exception. The Harvey Averne Barrio Band album was thick with aggressive rock guitars and thunderous percussion. "Cucaraca Macara" was one of the record's major hits, a powerful, dense mix of rock, funk and Latin elements that still manage to incorporate the delicacy of Averne's signature vibes alongside the heavy polyrhythms.
La Vida – Ralfi Pagán
Ralfi Pagán was a Bronx, New York-based Latin soul and salsa singer of Puerto Rican and Cuban parentage who was active from the mid-1960s until his death in 1978. He specialized in soul ballads sung both in Spanish and English and released five albums during the 1970s. The amazing "La Vida" shows the power of Ralfi. Pagán had a large following in Latin America and regularly appeared in South America. Substituting for fellow Fania Records performer Joe Bataan whilst on tour in Colombia in 1978, Pagán was murdered. His family was told that a promoter arranged for his murder to avoid payment of money due with his body being left on a local beach!!
Oye como va – Tito Puente
Tito Puente native Puerto Rican lived in New York City's Spanish Harlem, Puente is often credited as "The Musical Pope", "El Rey de los Timbales" (The King of the Timbales) and "The King of Latin Music". During the 1950s, Puente was at the height of his popularity, and helped to bring Afro-Cuban and Caribbean sounds like mambo, son, and cha-cha-chá, to mainstream audiences. Puente was so successful playing popular Afro-Cuban rhythms that many people mistakenly identify him as Cuban. Among his most famous compositions are mambo "Oye como va" (1963), popularized by Latin rock musician Carlos Santana and later interpreted, among others, by Julio Iglesias, Irakere and Celia Cruz.
Cobardia – Tito Chicoma Y Su Orquesta
Chitlins con carne – Pucho & His Latin Soul Brothers
"Chitlins con Carne" is a jazz blues instrumental composed by guitarist Kenny Burrell in 1963. Pucho & His Latin Soul Brothers was a Latin jazz, soul jazz and R&B group formed in 1959 by timbales player Henry "Pucho" Brown. Of the many musicians that worked in his group, Chick Corea is among them. In 1973 he disbanded the group and focused more on traditional Latin music.
Cisco Kid – Bobby Marin y La Crema
Bobby Marin has been an active part of the Mambo/Salsa scene. Originally, along with Louie Ramirez, they were pioneers during the Latin Boogaloo era. They composed and arranged music for some of the big names in Latin music. The Cisco Kid is a fictional character found in numerous film, radio, television and comic book series based on the fictional Western character created by O. Henry in his 1907 short story "The Caballero's Way".
War's song "The Cisco Kid" (from The World Is a Ghetto, 1972) reached number two on the US pop charts; the song also appeared on their 2008 Greatest Hits Live. A version was recorded by jazz organist Reuben Wilson on his album The Cisco Kid (Groove Merchant, 1973). But we like Bobby Marin's version best.
Nena – Malo
The San Francisco-based ensemble Malo around 1972 was led by Arcelio Garcia and Jorge Santana, the brother of Latin-rock guitarist, Carlos Santana. The band featured full horn and percussion sections in the style of contemporary bands Blood, Sweat & Tears and Chicago. Some of the best musicians in the Bay Area were featured in Malo, including Forrest Buchtel, Jr., Ron Smith, Paul C Saenz, Luis Gasca, and Tom Harrell in the trumpet section. Malo's music was also hugely popular in Central and South America, especially the song "Nena".
Si Si Puede – Ray Camacho & The Teardrops
Ray Camacho was a bandleader, trumpeter, and multi- instrumentalist whose musical diversity is legendary. He is best known for the single "Si Si Puede", issued in 1970 by Ray Camacho & the Teardrops. It became a rallying cry for Latin Americans who resisted the Vietnam War in the early 1970s, and was used in the Disney film McFarland USA.
Ultra-Funk – Los Amigos Invisibles
Los Amigos Invisibles is a Venezuelan band that plays a blend of disco, acid jazz and funk mixed with Latin rhythms. In addition to releasing eleven critically acclaimed albums, the band is lauded internationally for their explosive, live shows, spanning nearly 60 countries. "Ultra-Funk" is featured on "The New Sound of the Venezuelan Gozadera" from 1998.
Funky Tumbao – Setenta
Is a project by french musician Florian Pellissier.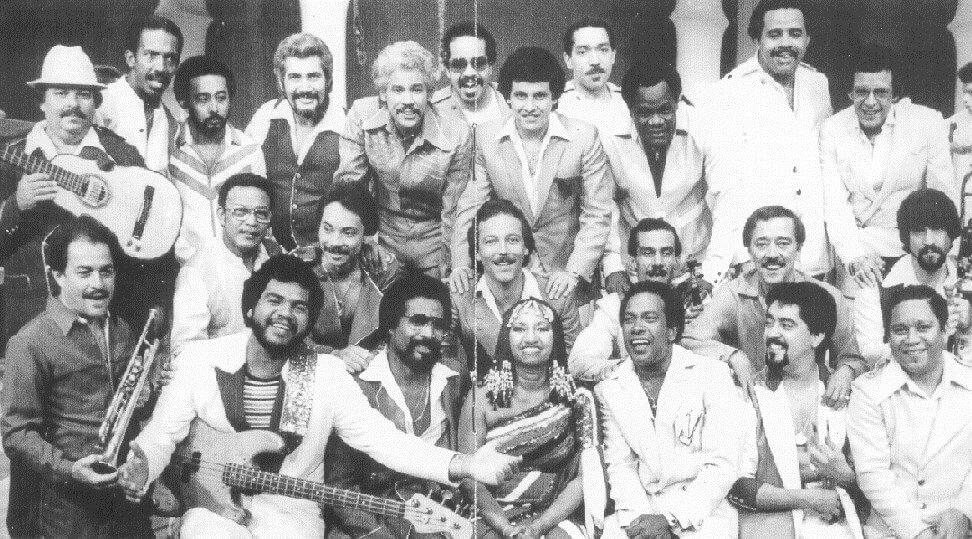 Steady (Fijo) – Fania All-Stars
In 1964, Fania Records was founded in New York City by Jerry Masucci, an Italian-American lawyer with a love for Cuban music, and Johnny Pacheco, a composer and bandleader born in the Dominican Republic who had like minded musical tastes. The Fania All-Stars was formed in 1968 as a showcase for the musicians on Fania Records, the leading salsa music record label of the time.
I Like It Like That – Pete Rodriguez
"I Like It Like That" is a song written by Tony Pabon and Manny Rodriguez. It was initially a hit for boogaloo musician Pete Rodriguez in 1967, and was one of the most influential boogaloo songs of the era. Rodriguez released an album in 1967 with the same title.
Lazy Boogaloo – George Guzman
George Guzman has become somewhat of an underground cult figure. His music can often be heard throughout hipster lounges around the world. A mind-boggling conga player, Guzman broke into the New York City boogaloo scene in 1968 with his debut "Introducing George Guzman". That album quickly garnered the attention of the sophisticated music aficionado. Guzman's classic track "Lazy Boogaloo" is one of those songs that showcase the mellower aspects of the genre. Chill and romantic, "Lazy Boogaloo" is a symbol of boogaloo's wide range of tempos.
Aftershower Funk – Joe Bataan
Joe Bataan was born Bataan Nitollano and grew up in the 103rd St. and Lexington Ave. part of East Harlem where he briefly led the Dragons, a local Puerto Rican street gang, before being sent to the Coxsackie Correctional Facility to serve time for a stolen car charge. His father was Filipino and his mother was African American. In 1973, he helped coin the phrase "Salsoul", lending its name to his first post-Fania album. "Aftershower funk" is a killer track from 1974.
Oriente – La Lupe
Lupe Victoria Yolí Raymond better known as La Lupe, was a Cuban singer of boleros, guarachas and Latin soul, known for her energetic, sometimes controversial performances. Following the release of her first album in 1961, La Lupe moved from Havana to New York and signed with Tico Records, which marked the beginning of a prolific and successful career in the 1960s and 1970s. She retired in the 1980s due to religious reasons.
Boogaloo Girl – Alfredo Linares Y Su Sonora
Alfredo Linares is a Peruvian musician, pianist, composer and arranger, who has ventured into many musical genres such as salsa, boogaloo, Latin jazz, Afro-Cuban jazz, among others. He is considered among the best exponents of tropical music and Latin American salsa.
Playlist
Santiago – Newen Afrobeat
Comencemos (Let's Start) – Jungle Fire
Soul Drummers – Ray Barretto
Nassau Jam – The Bahama Soul Club
Funk that Mambo – Eliel Lazo
Cucaraca Macara – The Harvey Averne Band
La Vida – Ralfi Pagán
Oye como va – Tito Puente
Cobardia – Tito Chicoma Y Su Orquesta
Chitlins con carne – Pucho & His Latin Soul Brothers
Cisco Kid – Bobby Marin y La Crema
Nena – Malo
Si Si Puede – Ray Camacho & The Teardrops
Ultra-Funk – Los Amigos Invisibles
Funky Tumbao – Setenta
Steady (Fijo) – Fania All-Stars
I Like It Like That – Pete Rodriguez
Lazy Boogaloo – George Guzman
Aftershower Funk – Joe Bataan
Oriente – La Lupe
Boogaloo Girl – Alfredo Linares Y Su Sonora
The Trip Latin Americano by Funkologie on Mixcloud
RELATED LINKS: