"Fela Kuti Edition"

A polyrhythmical journey through Fela Kuti's african and international heritage.
The musical style of Fela is called Afrobeat, a style he largely created, which is a complex fusion of jazz, funk, psychedelic rock and traditional West African chants and rhythms. Tony Allen (Fela's drummer of twenty years) was instrumental in the creation of Afrobeat. Here an amazing selection of bands celebrating this style.
The Trip
Mista President – The Souljazz Orchestra
The band from Ottawa signed to London-based Strut Records, a UK record label that focuses on dance music and afrobeat. Other musicians signed to Strut include Ethio-Jazz pioneer Mulatu Astatke, Motown guitarist Dennis Coffey and Ghanaian highlife singer Ebo Taylor, to name a few.
The Offering – Ikebe Shakedown
Formed in Brooklyn in 2008, taking their name from a Nigerian boogie album. The superb album "Stone by Stone" with slightly more psychedelic production techniques was released 2014.
Aihe Ni Kpe We – T. P. Orchestre Poly-Rythmo
The band from Cotonou, the largest city in Benin, which has been active under this name since 1968. T. P. Orchestre Poly-Rythmo had its heyday in the 1970s. 2004 there was a best of "The Kings Of Benin Urban Groove 1972-80" with "Aihe Ni Kpe We" on it.
This Ship Will Sink – The KutiMangoes
What makes Kutimangoes from Copenhagen special is the variety of styles they implement in their grooves… The danish musicians were supported by Rokia Traoré in Mali, who helped them with a selection of musicians. "Made in Africa" was pressed in 2016.
Soul Dive – The Liberators
Born in an unused factory space in urban Sydney, The Liberators – a compelling 10-piece Afrofunkjazz steamroller – have relentlessly pushed their sound to become leaders in the Australian Afrobeat resurgence. "Soul Dive" is taken from the second album "Power Struggle" from 2013.
It's Alright – Gyedu-Blay Ambolley
Gyedu-Blay is a Ghanaian highlife musician, songwriter, producer, and composer. The first musician from Ghana to formally incorporate rap forms into local highlife rhythms, Ambolley created the musical genre Simigwa.
"It's Alright" is a wonderful track full that occupies you completely.
E Go Betta – Dele Sosimi
Bamidele Olatunbosun Sosimi is a Nigerian-British musician. Based on Afrobeat, Dele's music is a blend of complex funk grooves, Nigerian traditional music, African percussion, underpinning the jazz horns and solos from other instruments, as well as rhythmical singing. "E Go Betta" is from 2015.
Primavera – Ocote Soul Sounds
Martín Perna (Antibalas) and Adrian Quesada (Grupo Fantasma, Brownout) and their extended musical family. By this point in time, Ocote Soul Sounds had evolved beyond studio-based side project status, functioning additionally as a dynamic live band.
Bamako – Songhoy Blues
A desert blues music group from Timbuktu, Mali. The band was formed in Bamako after they were forced to leave their homes during the civil conflict and the imposition of Sharia law. "Résistance" is from 2017.
Bobo – Polyrhythmics
"Libra Stripes" is the second full length record released by Seattle's Polyrhythmics. The instrumental eight-piece's has tight grooves and virtuosic musicianship as they tear through a singular blend of funk.
Mayaluc – The Humidors, Kelly Finnigan, Sergio Rios
Formed in 2014 from the vestiges of funk and neo-soul band King Pablo, The Humidors are a standout among the groups that putting the Bay's funk and soul scene on the map. "Mayaluc" a moody instrumental reminiscent of early Budos Band tunes and of course Fela…
Jin-Go-Lo-Ba (Jin-Go-Low-Bah) – Babatunde Olatunji
Michael Babatunde Olatunji was a Nigerian drummer, educator, social activist and recording artist. "Jin-Go-Lo-Ba" was released 1968, before Santana was making the tune famous in 1969.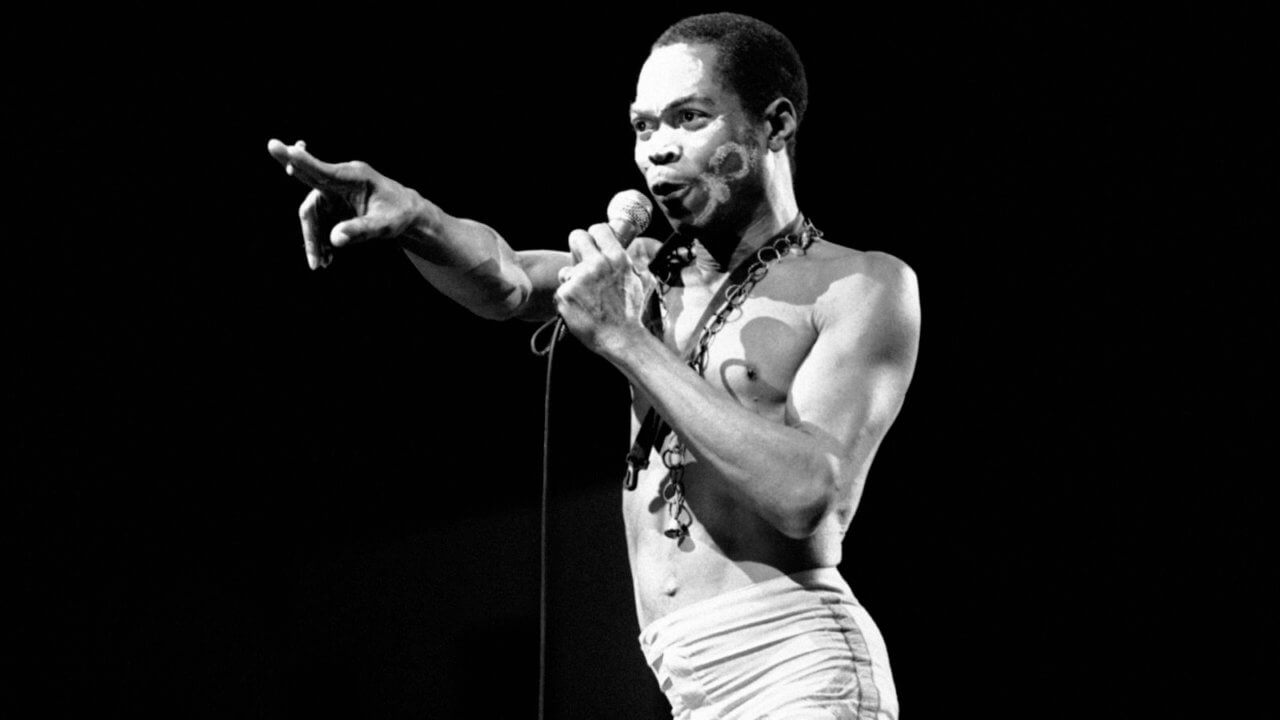 Eko Ile – Fela Kuti
From "Afrodisiac" in 1973. These four piece album, all sung in Nigerian are propulsive mixtures of funk and African music, avoiding the homogeneity of much funk and African records of later vintage, done with nonstop high energy. The interplay between horns, electric keyboards, drums, and Fela's exuberant vocals gives this a jazz character, without sacrificing the earthiness that makes it danceable as well. The album later served as both an inspiration and a template for American post-punk band Talking Heads' 1980 album Remain in Light.
The Volcano Song – The Budos Band
A band from Staten Island, New York, formed in 2005. AllMusic describes the group as a "doom rock Afro-soul big band with a '70s touch" that joins "musical universes from trippy psychedelia and Afro-funk to '70s hard rock and late-'60s soul". "The Volcano Song" was the highlight of the first release in 1995.
Big Muffler – Black Market Brass
Founded in Minneapolis during the spring of 2012, the band came together when two guitar players discovered each other's almost identical craigslist ads aimed at starting a funk band influenced by among other things, the sounds of Fela Kuti, K Frimpong, and King Sunny Ade. "Big Muffler" is from 2013.
Olè – Ten Different

Diaspora – The Funk Ark
World-beat-afro-pop-funk takes listeners on a global journey through across a vintage music landscape. This Washington DC based band's polyrhythmic, dance-inspiring, funk sound reveals the personal evolution of funk and rhythm within the group. The incredibly groovy "Diaspora" from the album "From The Rooftops" was released in 2011.
Mista President – The Souljazz Orchestra
The Offering – Ikebe Shakedown
Aihe Ni Kpe We – T. P. Orchestre Poly-Rythmo
This Ship Will Sink – The KutiMangoes
Soul Dive – The Liberators
It's Alright – Gyedu-Blay Ambolley
E Go Betta – Dele Sosimi
Primavera – Ocote Soul Sounds
Bamako – Songhoy Blues
Bobo – Polyrhythmics
Mayaluc – The Humidors, Kelly Finnigan, Sergio Rios
Jin-Go-Lo-Ba (Jin-Go-Low-Bah) – Babatunde Olatunji
Eko Ile – Fela Kuti
The Volcano Song – The Budos Band
Big Muffler – Black Market Brass
Olè – Ten Different
Diaspora – The Funk Ark
Diaspora by Funkologie on Mixcloud