This mix is about lads starting to make their own music, soaked with black Rhythm and Blues. The start to what become Garage Sound. Fasten seatbelt, grab a brownie and light a fire!
The Trip
Gimme fire!
I'm Alive – Johnny Thunder
"I'm Alive" is a song written by Tommy James and first recorded and released in 1968 by American singer Johnny Thunder, member of The Drifters. Worked also with Sam Cooke, Dionne Warwick, Jerry Butler and Bobby Womack.
Strychnine – The Sonics
A garage rock band from Tacoma, Washington that formed in 1960. Their aggressive, hard-edged sound has been a major influence on punk and garage music worldwide, and they have been named as inspirations to the White Stripes and other musical artists. "!!!Here Are The Sonics!!!" is the debut album released in 1965.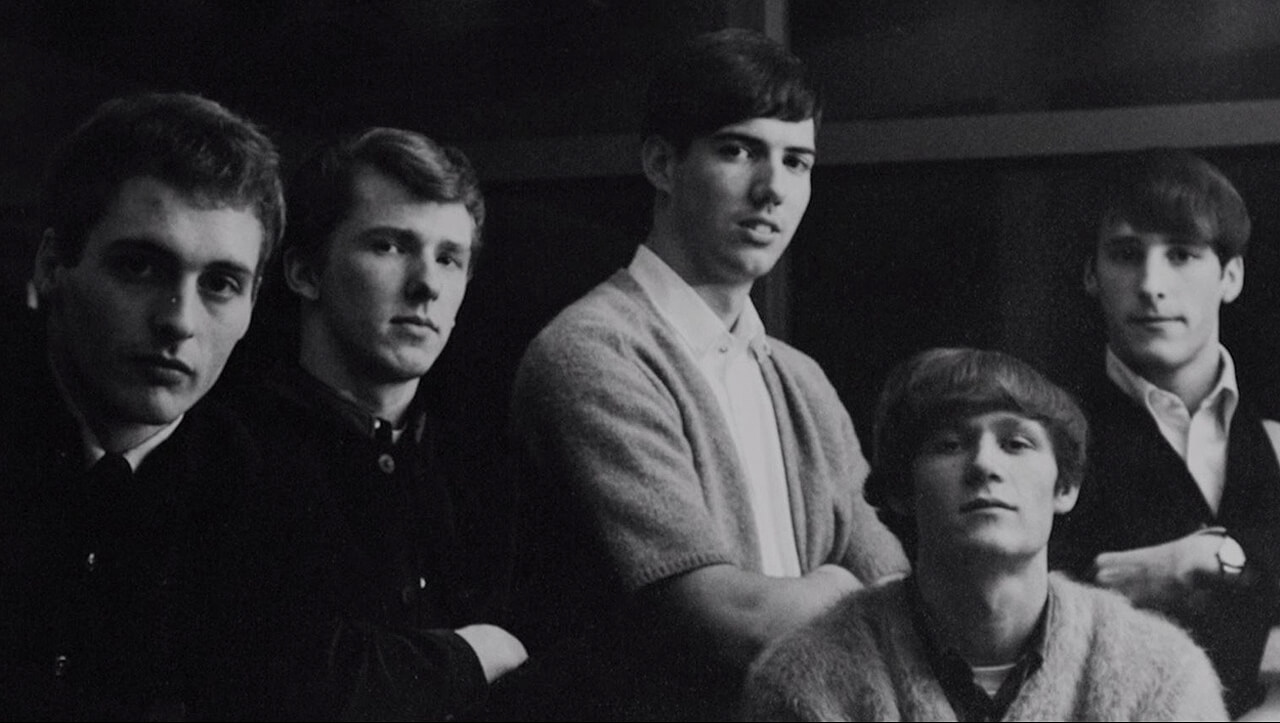 Fire – Pegasus
Flamboyant funky hard psych rock 2-sided dynamite on their own US Pegasus label, released in 1970 and appears to be their only release. Sons were written and produced by Keith Gaudette. A Killer 45's!
It's My Pride – The Guess Who
A Canadian rock band, formed in Winnipeg in 1962. The group found international success from the late 1960s through the mid-1970s primarily under the leadership of songwriters Burton Cummings and Randy Bachman (later of Bachman–Turner Overdrive) and recorded many hit singles, such "American Woman".

Baby You've Got It (Gonna Get Me Somebody) – The Clique
The Clique was formed in the late 1980s. This line-up played many high profile gigs centred around the revived UK Mod scene. After sporadic experiments with keyboard players, including James Taylor. Up Until that point the Clique had been a (albeit superlative) covers band, making up for their lack of original material by covering only the very rarest and most obscure freakbeat Europe had to offer.

Big Bird – Dog Soul
Embraced by a new generation of Britons from Bradley Wiggins to Miles Kane, the tabloids lead the way in mod hysteria over the summer – the thirst for original mod iconography, history and music has never been greater. A great Acid Jazz record compilation.

Big Time Operator – Zoot Money's Big Roll Band
A British rhythm and blues and soul group, also influenced by jazz, formed in the early autumn of 1961. The band has had a number of personnel changes over the years and was still performing in 2020.

Land of 1000 Dances – The Action
The Action were an English band of the 1960s, formed as The Boys in August 1963, in Kentish Town, North West London. They were part of the mod subculture and played soul music-influenced pop music.

If I Ever Get My Hands On You – The Artwoods
They were a popular live attraction, rivalling groups such as the Animals, although, despite releasing a clutch of singles and an album, their record sales never reflected this popularity. When keyboardist Jon Lord and guitarist Derek Griffiths from Red Bludd's Bluesicians joined the Art Wood Combo, the Artwoods were formed around Singer Arthur Wood, brother of Ronnie. With Keef Hartley, formerly with Rory Storm & the Hurricanes, joining on drums and Malcolm Pool from the Roadrunners joining as bassist, in December 1964 the band turned professional.
You Need Loving – Small Faces
Small Faces were an influential British mod/psychedelic band of the 1960s, led by Steve Marriott and Ronnie Lane with Kenney Jones and Ian McLagan (who replaced original organist Jimmy Winston). The Small Faces were all genuine East End mods. The demise of the Small Faces arrived on New Years Eve 1968, when Steve Marriott walked off stage at The Alexandra Palace in London. Marriott felt that despite the success of the group, he was still not being taken seriously as a musician.

Hold On – Les Fleur De Lys
The Fleur de Lys were a British band originally formed in late 1964, in Southampton. They recorded singles beginning in 1965 in the transitional Beat to psychedelic music genre, later known as freakbeat. The band had varied line-ups; only drummer Keith Guster was a member throughout their history. Jimmy Page produced their first single and co-produced their second release with Glyn Johns. In 1966 Chas Chandler added Jimi Hendrix to a song they had recorded in London called Amen.

All Day and All of the Night – The Kinks
Like their previous hit "You Really Got Me", the song is based on a power chord riff. Both songs are similar in beat and structure, with similar background vocals, progressions, and guitar solos. Ray Davies from the Doors said on the topic: My publisher wanted to sue because similarities between of "Hello, I Love You". I was unwilling to do that. I think they cut a deal somewhere, but I don't know the details.

Midnight To Six Man – The Pretty Things
An English rock band, formed in September 1963 in Sidcup, Kent. They took their name from Willie Dixon's 1955 song "Pretty Thing". A pure rhythm and blues band in their early years, with several singles charting in the United Kingdom, they later embraced other genres such as psychedelic rock in the late 1960s.

Money (That's What I Want) – The Kingsmen
The Kingsmen are a 1960s garage rock band from Portland, Oregon, United States. They are best known for their 1963 recording of Richard Berry's "Louie Louie", which held the No. 2 spot on the Billboard charts.
Dirty Water – The Standells
Garage rock band from Los Angeles, California, formed in the 1960s and said to have inspired such groups as the Sex Pistols and Ramones. They are best known for their 1966 cover of Ed Cobb's hit "Dirty Water", now the anthem of several Boston sports teams.

I'm Not Your Stepping Stone – Paul Revere & The Raiders
In 1965 the Raiders began recording a string of garage rock classics. Under the guidance of producer Terry Melcher, the group relocated to Los Angeles and increasingly emulated the sounds of British Invasion bands.
"(I'm Not Your) Steppin' Stone" is written by Tommy Boyce and Bobby Hart in 1966.

Fire – Arthur Brown
"Fire" is a 1968 song written by Arthur Brown, Vincent Crane, Mike Finesilver and Peter Ker. Performed by The Crazy World of Arthur Brown, it was released as a single and on the band's debut album, also called "The Crazy World of Arthur Brown". During live performances and in the black and white promotional television clip, Brown performed the song wearing a burning helmet!
Hot Sand – Shocking Blue
Dutch rock group, formed in 1967 by guitarist Robbie van Leeuwen, joined by Cor van der Beek (drums), Klaasje van der Wal (bass) and Fred de Wilde (vocals). Mariska Veres replaced de Wilde as their lead vocalist. In 1969, the group enjoyed a worldwide chart success with "Venus". "Hot Sand" was the B-Side of the Hit Single.

Open up Your Door – Richard And The Young Lions
Richard and the Young Lions were an American garage rock band from Newark, New Jersey.

Black Eyed Bruiser – Stevie Wright
"Black Eyed Bruiser" is the second studio album from Australian singer Stevie Wright. The album was not as commercially successful as its predecessor Hard Road and would be the Wright's final album released with production team Vanda and Young and record label Albert Productions in Melbourne 1975. This track sounds like a prehistoric AC/DC song…!

The Corner Man – Barrence Whitfield & The Savages
Barrence Whitfield (born Barry White). White adopted the stage name Barrence Whitfield to avoid being mistaken for superstar Barry White :-) The band garnered a strong reputation for explosive stage performances, described as "raucous and rough, in high gear from the moment they hit the stage.
The Playlist
I'm Alive – Johnny Thunder
Strychnine – The Sonics
Fire – Pegasus
It's My Pride – The Guess Who
Baby You've Got It (Gonna Get Me Somebody) – The Clique
Big Bird – Dog Soul
Big Time Operator – Zoot Money's Big Roll Band
Land of 1000 Dances – The Action
If I Ever Get My Hands On You – The Artwoods
You Need Loving – Small Faces
Hold On – Les Fleur De Lys
All Day and All of the Night – The Kinks
Midnight To Six Man – The Pretty Things
Money (That's What I Want) – The Kingsmen
Dirty Water – The Standells
I'm Not Your Stepping Stone – Paul Revere, The Raiders
Fire – Arthur Brown
Hot Sand – Shocking Blue
Black Eyed Bruiser – Stevie Wright
The Corner Man – Barrence Whitfield & The Savages
The start to what become Garage Sound. by Funkologie on Mixcloud
Related Links:
Holding A Dream. Rare amazing Compilation.
Rare Mod Volume 4