A funky good time with M(C)Jovanovic. He sent us an assorted playlist of funky juice.
Here our reply. Thanks for beeing part of this voodoo drenched psychodelic thing.
Miodrag is a passionate music lover and covers all genres of music from jazz to house. Check out his composites on Mixcloud.
Mind over Matter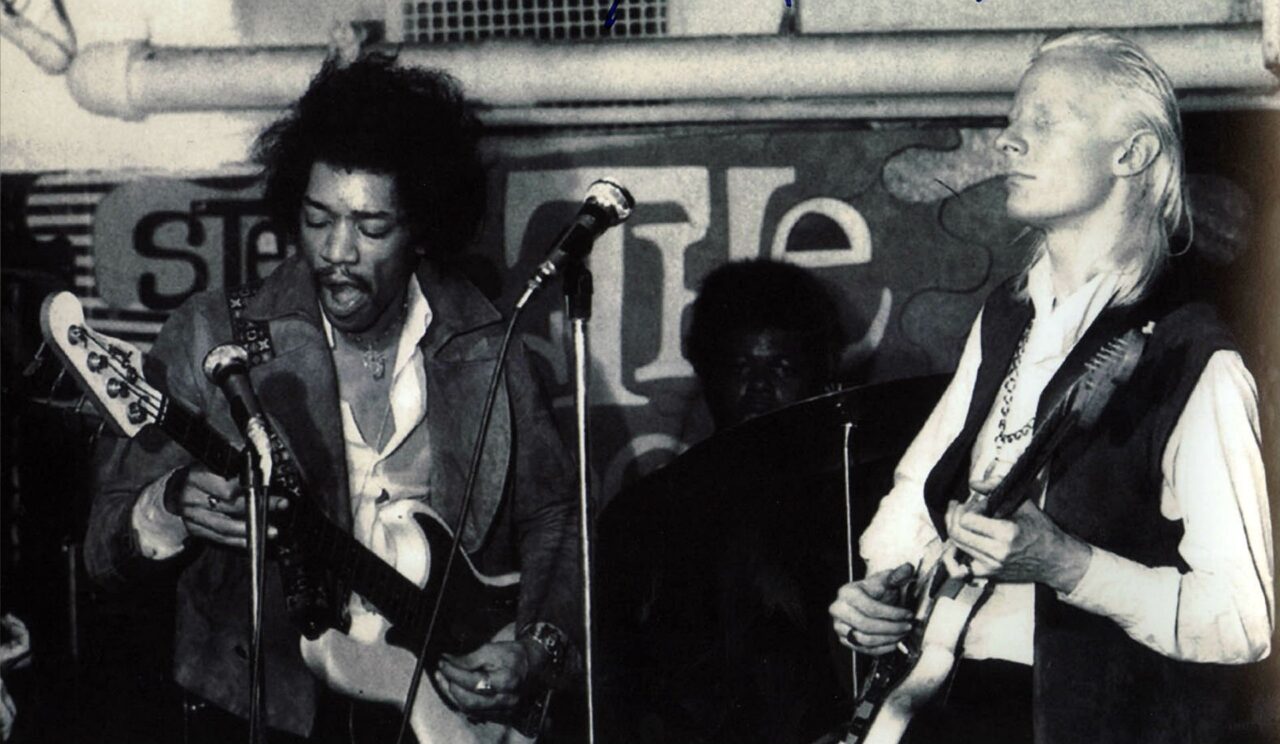 Mind Over Matter – Johnny Winter
John Dawson Winter III was an awsome guy. Winter was known for his high-energy blues rock albums and live performances in the late 1960s and 1970s. He also produced three albums for blues singer and guitarist Muddy Waters. Johnny's fearlessness served him well when he played Southern juke joints, where drunken rednecks threw drinks at the musicians, and club owners put up chicken wire to keep the bottles from hitting the stage. He played those clubs with a blues power trio that included bassist Tommy Shannon and drummer Uncle John Turner. He played Woodstock and dozens of music festivals across the US, the Bath Festival, the Isle of Wight Festival, and concerts at high-profile venues, including the Royal Albert Hall, Fillmore, Fillmore East, Hollywood Bowl and the Spectrum in Philadelphia. A man, a legend.

Vibrator – Sananda Maitreya (Terence Trent D'Arby)
From the awsome album "Terence Trent D'Arby's Vibrator" from 1995. You hear him playing Drums, Guitar, Sitar, Keyboards, Backing Vocals on this track. He later adopted the name Sananda Francesco Maitreya.

Chocolate Chip & Chicken Bone – Paulo Mendonca
On one of the best Funk Rock album ever. My absolute favorite live artist. Paulo Mendonça is a Swedish funk guitarist of Portuguese origin. He has made 5 studio albums and one Live album, the first 3 in the 1990s. He toured with Tina Turner among others.

Véro – Anthony Joseph & The Spasm Band
Anthony Joseph & The Spasm Band is a band led by Trinidadian poet, novelist and lecturer Anthony Joseph. The band was formed in London in 2005 as an offshoot of his then novel-in-progress The African Origins of UFOs. The band's musical influences include Free Jazz, Afro-Caribbean funk, spoken word. Here a co-work with guest performer Keziah Jones.

For True – Trombone Shorty
Produced by Galactic's Ben ElIman and features Andrews' band, Orleans Avenue, as well as a string of legendary performers with whom he recently shared the stage, including Jeff Beck, Kid Rock, Lenny Kravitz, Ledisi, Warren Haynes, Ivan and Cyril Neville, The Rebirth Brass Band and more.
Get Down With It – Eddie Harris
Harris, who can be considered one of the pioneers of fusion music, experimented with an electrified saxophone by replacing brass mouthpieces with saxophone mouthpieces.
Mabusso – Ambros Seelos Orchestra
The first years the ensemble played in dancings and entertainment venues all over Europe. In between there were tours with Freddy Quinn, Schlagerparaden, Chubby Checker and Lou van Burg. In Naples, a guest performance of several months took place at Nato headquarters and on two US aircraft carriers. On tours in Sweden, the orchestra shared a stage with Count Basie and Louis Bellson or Ella Fitzgerald.
Funky Fast Bump – The Outlaw Gang
Get Down – Lonnie Jordan
American Funk vocalist, keyboards player, percussionist and songwriter. Founding member and lead singer of War, he remains the only original member still in the band.

Soul & Sunshine – Harvey & The Phenomenals
Harvey & The Phenomenals were led by guitarist Harvey Hall-Nickerson and were regular performers on the Cleveland, Ohio club circuit in the late '60s and early '70s.
L.A. 26000 – Damn Sam The Miracle Man
O.C Colbert began his career in 1966 and subsequently moved to Detroit, Michigan in 1967 to find fame without much success. Thereafter, he met the producer Jack Taylor and released his first album Damn Sam The Miracle Man And The Soul Congregation in 1970.

Africa Gone Funky – Screamin Jay Hawkins
Jay created an outlandish stage persona in which performances began with the coffin and included "gold and leopard-skin costumes and notable voodoo stage props, such as his smoking skull on a stick – named Henry – and rubber snakes. "Africa Gone Funky" was a single recorded in 1973.

Black Betty – Larkin Poe
The two Sister Rebecca & Megan Lovell with Leadbelly's legendary number.
It's A Man's World – Lou Pride
Born in Chicago's North Side. Performed solo at grade school, where support came from local pastors including Reverend Edward J. Cole the father of singer Nat King Cole. This version of James Brown's hit was recorded in 1970.

Harvey Scales & The Seven Sounds
Formed in 1961 Milwaukee, Wisconsin by Harvey Scales and Albert James Vance. They recorded singles for Cuca Records, Magic Touch Records and Chess between 1967 – 1970.
Mojo Man – Jimi Hendrix
This song finds Jimi backing Albert & Arthur Allen, a pair of vocalists known as The Ghetto Fighters, whom he had befriended in Harlem long before he achieved fame with the Experience. The Ghetto Fighters originally recorded the master at the legendary Fame Studios in Muscle Shoals, Alabama before taking it to Hendrix, who laid down his guitar part during the summer of 1970 at Electric Lady Studios. Previously unreleased, the track finally got to be heard when it was included on Jimi's 2013 posthumous album "People, Hell & Angels".

Maggie M'Gill – The Doors
Jim Morrison created the character Maggie M'Gill, a woman in the Old West who resorts to prostitution. The Doors started working on this in 1967 after a concert at the University of Michigan at Ann Arbor.
I'm In The Red Zone – The Undisputed Truth
"I'm In the Red Zone" compares sexual frustration to a jonesing junkie. A nice parting shot for the group and Norman Whitfield. "Down to Earth" from 1975, expanded on via Cosmic Truth and maximized on this, their exit album from the Gordy/Motown family of labels.
Playlist
Mind Over Matter – Johnny Winter
Vibrator – Sananda Maitreya (Terence Trent D'Arby)
Chocolate Chip & Chicken Bone – Paulo Mendonca
Véro – Anthony Joseph & The Spasm Band
For True – Trombone Shorty
Get Down With It – Eddie Harris
Mabusso – Ambros Seelos Orchestra
Funky Fast Bump – The Outlaw Gang
Get Down – Lonnie Jordan
Soul & Sunshine – Harvey & The Phenomenals
L.A. 26000 – Damn Sam The Miracle Man
Africa Gone Funky – Screamin Jay Hawkins
Black Betty – Larkin Poe
It's A Man's World – Lou Pride
Love Thief – Harvey Scales
Mojo Man – Jimi Hendrix
Maggie M'Gill – The Doors
I'm In The Red Zone – The Undisputed Truth
A funky good time with M(C)Jovanovic. by Funkologie on Mixcloud