Fat beats and proper Funk'n'Soul. The best of our Funkologie channel. Join us!
This is a collaboration with our Facebook group members. This time with our special guest Yusuf Calisir.
If you like good music join simply the group!
Funkologie – Hot Funk and Soulbeats
Public group · 1060 members
Hi everybody out there…
This group should be a tribute to James Brown, The Isley Brothers, The Meters, George Clinton, Parliament, Funkadelic, Patty…
Cartoon People
It's A Damn Shame – Johnny "Guitar" Watson
Seminal electric blues & rhythm & blues guitarist of the mid-1950s. Performed with artists such as Little Richard and worked in synthesizer productions in the 1960s. In later years his work was a source for sampling by artists such as Dr Dre and Snoop Dogg. He also worked on a number of recordings and projects with Frank Zappa.

Hustle On Up (Do The Bump) – Hidden Strength
Hidden Strength are best known for their classic groover "Hustle On Up (Do The Bump)" — a killer track with a nice funky bus stop groove and some great moog — but the whole album's pretty darn sweet…

Jam Around The World – The Chapparrals
Originally released in 1978, it's the only known album by this super hot Atlanta, Georgia band. The Chapparrals were known for wild onstage antics, deep funky sounds and for taking no prisoners when they opened for any of the numerous recording acts they had the pleasure of working with back in the '70s. These guys are a perfect summation of popular funk groove as their album is a blistering blend of bassy rhythms and tight instrumentation.
The Music Of Your Mind – The Corner Gang

Cartoon People – Freddi & Henchi
In Colorado, front-men "Freddie Love" Gowdy and "Henchi" Graves earned over three decades a reputation as an indefatigable, Boulder-based musical party act popular on the state's college circuit.
Funky Screw – Lee Fields
It was ever since the 1960's, when he was a teenager in North Carolina sweating it out on juke joint stages, crumpled dollars hailing at his feet. It continues now that the living legend is in his late sixties, ushering in the most successful and fruitful period of his career.

Do Your Stuff – Perk Badger
Perk Badger considered the notion of a life as a preacher man in Jacksonville but the lure of the music business was too strong for him and in 1966 he had moved to Miami at the behest of his long time friend and fellow gospel singer Willie Walters. Walters was from Jacksonville and appears to have been a dynamic individual with fingers in a fair few pies. He owned a number of shops including a wig shop on 7th Avenue in Miami and wanted a piece of the action in the thriving music industry of the Magic City. The result was the three 45s by Mr Percolator on Wax-Wel records a label owned by Walters and Badger. Perk Badger struggled on in the business for a number of years but the necessity to earn enough money to look after his family meant that he took a number of jobs including working in a library and around 1980 he bought a record shop on 79th Street in Miami.

C.C. Rider – Boots Randolph
As a child, he learned to play music with his family's band. He was not sure where or why he acquired the nickname "Boots", although it may have served to avoid confusion since his father and he had the same first name. He started out playing the ukulele and trombone, but switched to tenor saxophone when his father unexpectedly brought one home.

War – Carla Whitney
Born in Kansas City, Kansas, her performing career started as early as three years old while touring with her family's gospel group. The group opened for many leading performers passing through Kansas City. In 1967, she left the group, and turned down offers to tour with Bobby Bland and Little Richard before joining the James Brown Revue as a featured vocalist.

I Got It – Gloria Spencer
Gloria Spencer, gospel singer who was billed as the "World's Largest Gospel Singer". Over the course of her four-year career, Spencer released only two albums. She was noted for her sparkling soprano that could easily show a pop feeling or a gritty one.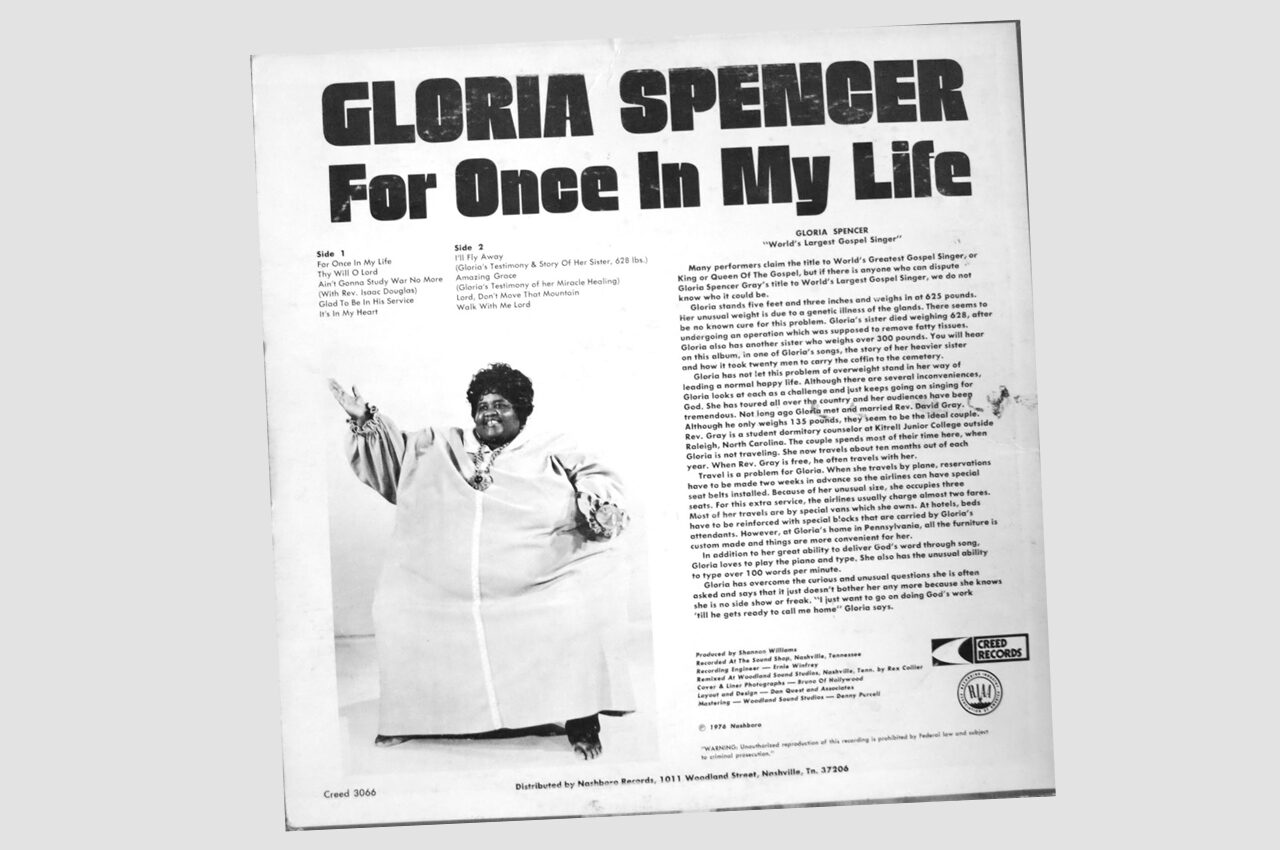 I Need It Just as Bad as You – Laura Lee
Laura Lee was most successful in the 1960s and 1970s and influential for her records which discussed and celebrated women's experience. Written by Brian Holland, Lamont Dozier, and Eddie Holland. In most cases the original recordings were for Motown.

Let A New Day Begin – Helene Smith
Miami's First Lady of Soul. A lesser known Southern soul singer, Helene Smith recorded a handful of songs for various Miami labels, most notably for Deep City. She is often compared to Betty Wright, although Helene's delivery was usually slower, more deliberate.

It's Too Late – Denise LaSalle
She met Billy "The Kid" Emerson, who at that time was working for Chess Records. This resulted in a one year recording contract with Chess; however, no recording sessions were done. Later on Emerson started his own label, Tarpon, and in 1967 he recorded LaSalle on his label.
We Only Just Begun – Lee Mc Donald
Lee McDonald's version of the Carpenters track which have been Modern Soul Classics for many years.

Zimba Ku – Black Heat
Black Heat was a 1970s funk band founded by King Raymond Green and discovered by Phillip Guilbeau. Their albums include "Black Heat" from 1972.

Rhodesian Girl – The Poets Of Rhythm
The pioneers of the retro-modernist funk movement, Munich's Poets of Rhythm, recorded their classic debut album in 1993. The sound that these German boys made could easily come from the Southside of Chicago in the late 60's, or Memphis in the height of the Stax era.

Cross The Tracks – The Masai
A one time sought after 45 on the UK's Rare Groove scene, this Funk groover was always assumed to be a UK only release and technically it was because although it had been out in 1971 on the Brownstone label in the USA, that issue was credited to The Believers who were Fred Wesley and members of the JB's.

Take Me Back – Golden Hands
A beautiful track from 1978 made in Marocco by Driss Daou-El-Makane, Emjid El Warari and Thami Daou El Makan.

You Like To Dance – Milton Wright
Soul singer – songwriter – producer, active in the 1970s Miami soul scene. From "Spaced" 1977.

Contact off Funk – Larry "T-Byrd" Gordon
Little known funky 45 from 1979 produced by the legendary Willie Mitchell. It contains the monster B-boy funk cut "Contact off funk".
The Playlist
It's A Damn Shame – Johnny "Guitar" Watson
Hustle On Up (Do The Bump) – Hidden Strength
Jam Around The World – The Chapparrals
The Music Of Your Mind – The Corner Gang
Cartoon People – Freddi & Henchi
Funky Screw – Lee Fields
Do Your Stuff – Perk Badger
C.C. Rider – Boots Randolph
War – Carla Whitney
I Got It – Gloria Spencer
I Need It Just as Bad as You – Laura Lee
Let A New Day Begin – Helene Smith
It's Too Late – Denise LaSalle
We Only Just Begun – Lee Mc Donald
Zimba Ku – Black Heat
Rhodesian Girl – The Poets Of Rhythm
Cross The Tracks – The Masai
Take Me Back – Golden Hands
You Like To Dance – Milton Wright
Contact off Funk – Larry "T-Byrd" Gordon
Fat beats and proper Funk'n'Soul. The best of our Funkologie channel. Join us! by Funkologie on Mixcloud