Brazilian Funk is a style, which rather transmits the melodious and tender side of brasil music. This mix is associated with the A-Side of our Música Popular Brasileira Trip series.
The Trip
O funkeiros
Bobeira – Edson Frederico
A Carioca, who caused a sensation as one of the best new pianists of his generation. And because he is so good, it was time to show the whole country this sound, the swing that has so characterized him since the days when he played piano in Maestro Erlon Chaves' Banda Veneno or accompanying international singers like Spanky Wilson and Romauld.

Se Você Pensa – Erasmo Carlos, Frenéticas
His collaboration with singer Roberto Carlos is certainly the most successful in the history of Brazilian pop music, both in terms of sales and in terms of re-recordings, made by artists from all over Brazil. As Frenéticas were a musical group formed by six female vocalists, which appeared in 1976 in Rio de Janeiro, at the height of the success of Disco Music.

O metrô – Carlos Dafé
Carlos Dafé had his first model as musician in the figure of his father, who taught him several instruments and introduced him to choro and samba traditions. In the '60s, Dafé exercised his vocal possibilities as a crooner in São Paulo and Rio's nightclubs. His first solo album came in 1977 (Pra Que Vou Recordar). Influenced by Tim Maia and Cassiano, the Carioca from Vila Isabel suburban Carlos Dafé developed their soul music tinge, first reflected in his 1978's Venha Matar Saudades, where he was backed by the Banda Black Rio.

Homem Pássaro – Hyldon
A former partner of Maia's and member of Cassiano's band, Hyldon had his first hit in 1975 with the ballad "Na Rua, na Chuva, na Fazenda" included on his first LP of the same name. After some ostracism, Hyldon left soul music and devoted himself to children's music. Contemporary bands like Kid Abelha and Jota Quest have been renovating an interest of the newer generations in Hyldon's work.
I wanted to be a bird man, to fly through space alone.
Go for the highest star, that every night shines in its path…

from Homem Pássaro,Hyldon
Odoya – S-Tone Inc, Toco
S-Tone Inc. is multi-instrumentalist jazz musician Stefano Tirone's main musical project. Originating from Milan, Italy, Tirone has been a professional musician for over twenty years. In 2004, he produced the album "Instalaçao do Samba" for the Brazilian songwriter Tomaz Di Cunto who has chosen the name Toco for his project. During 2003 and 2004 he wrote and produced the tracks of his fourth album "Luz y Sombra", that has a more acoustic vein and features many musicians from the Milan jazz scene, plus five Brazilians.

Não Vou Chorar – Os Diagonais
Led by the singer, composer and instrumentalist Cassiano, Os Diagonais, originally called "Bossa Trio", was created in 1964. With a short career, the group recorded, besides a series of compact songs, only two LPs by RCA. With an original mix of samba and soul, the group had a great emphasis on the vocals, before being undone, toured cities in the countryside of Bahia and Minas Gerais, and also served as a support band for Tim Maia at the beginning of the "síndico"'s career in the late 60's.
Bananeira – Emílio Santiago
Attending law school in the 1970s, began to sing in college festivals in the same decade and participated in a talent show, reaching a final program Flávio Cavalcanti, the defunct TV Tupi and the orchestra worked as a crooner Ed Lincoln, and many performances in clubs and concert halls at night. In 1973 the first single released, with songs of love and Transa de Amor and Saravá Nega, which caused major interests in radio and television programs. "Bananeira" is from his debut 1975.

A Praieira – Chico Science, Nação Zumbi
Born amidst the rich cultural tradition of Northeast, Chico Science began to experiment with afro bloco (Carnival group) Lamento Negro's Gilmar, blending maracatu with reggae, funk, rap, and rock. The mixture of regional rhythms with world pop music, played by guitar, bass, samplers, and other tech gadgets, was named by him as "mangue" (a reference to the mud flats of Recife). With the later addition by the press of the word "beat", it remained an umbrella denomination to the pop adaptations suffered by ancient folkloric Northeastern musics.

Umbabarauma – Jorge Ben Jor
Re-Recording of the classic "Ponta de Lança Africano (Umbabarauma)", from the album "África Brasil" (1976) by Jorge Ben Jor. Held in March 2010 in São Paulo. Support vocals by Negresko Sis (Anelis Assumpção, Céu and Thalma de Freitas).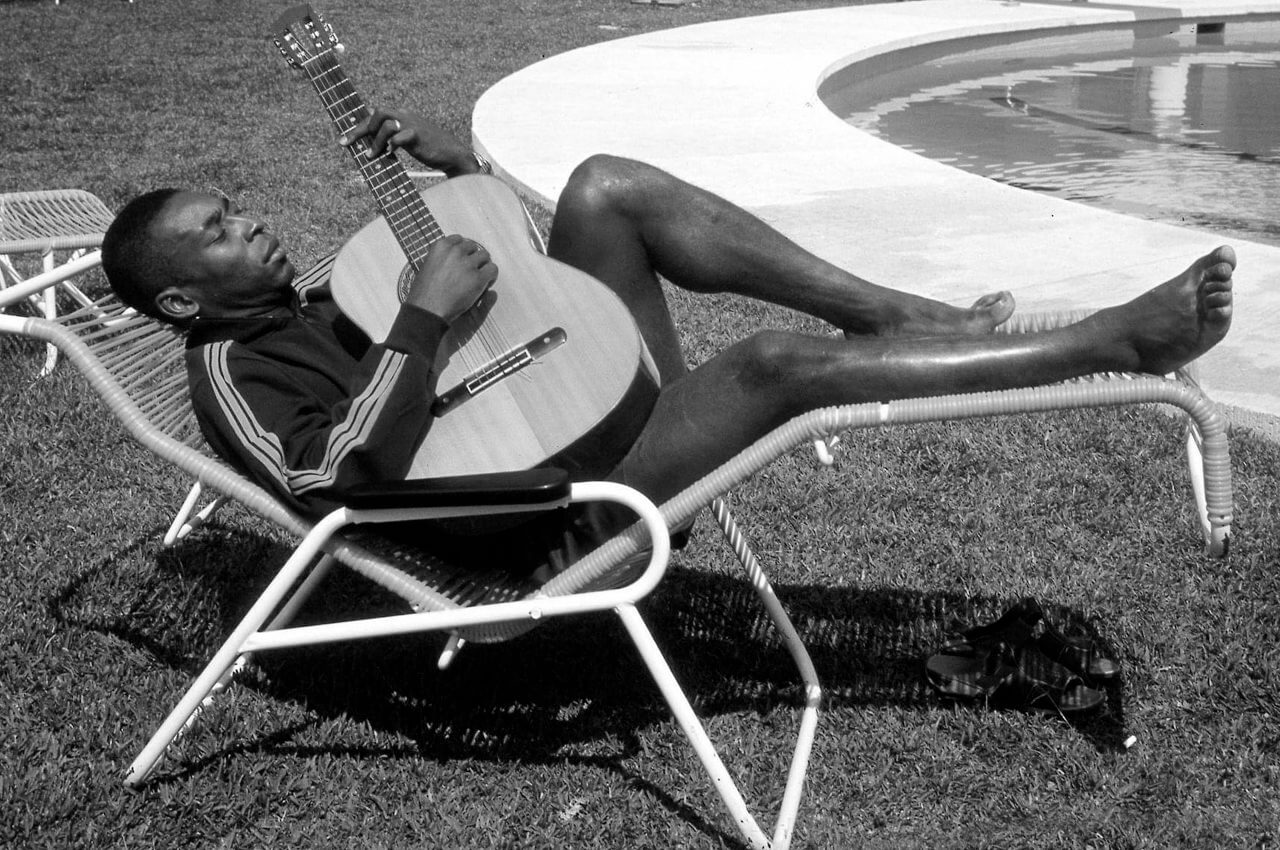 Mais Kriola – Helio Matheus
After starting his career as a musician performing in clubs in Rio and São Paulo. He recorded his first LP in 1975, Matheus Segundo Matheus. The album had arrangements by Oberdan Magalhães, Zé Rodrix and Chiquinho de Moraes, besides the participation of the band Azymuth.

Chuva De Cristal – Cassiano
Genival Cassiano dos Santos, better known only as Cassiano. A precursor of soul music in Brazil, with influences ranging from the rhythm and blues of Otis Redding, the soul of Stevie Wonder and others, as well as the samba-song of Lupicínio Rodrigues.

Nem Vem Que Não Tem – Wilson Simonal
Simonal began his career during his military service, singing English music and calypso in bars or on boats. He was discovered in 1963 by the Brazilian composer and producer Carlos Eduardo Imperial, who enabled him to make his first appearances in the television. In the same year Simonal's first album "Balanço Zona Sul" was released. In collaboration with Carlos Imperial, he created very successful samba and bossa nova numbers such as "Nem Vem Que Não Tem" (which can be heard on the soundtrack to Cidade de Deus).

Nao Pode – Tony Bizarro
Tony Bizarro, born Luiz Antônio Bizarro. Singer, songwriter and producer of mpb, soul and funk music. In 1970, alongside friend Frank Arduini, he recorded his first LP titled Tony & Frankye, produced by Raul Seixas. Tony also participated in albums of several Brazilian music artists such as Tim Maia, Lincoln Olivetti, Jorge Robson, Almir Ricardi, among others. "Nesse Inverno" is from 1977.

Kabaluere – Antonio Carlos & Jocafi
Duet founded in 1969 by Antônio Carlos Marques Pinto and José Carlos Figueiredo.

Deus Me Faca Funky – Skowa & Mafia
Skowa and the Mafia from São Paulo has strong influences from the African diaspora genres, more specifically North American Black Music, Caribbean music and Brazilian samba. Besides Funk and Soul Music, there are strong elements of Rock and also Reggae and Cuban rhythms and started its activities in 1987.
Que Vida E Essa – Wal Santana
A beautiful brazilian pearl from 1973.

Se O Mundo Acabasse Em Mel – Di Melo
Di Melo, originally from Pernambuco, arrived in São Paulo in the 1960s. In 1975, he made his first studio album and eponymous, Di Melo, with the participation of Hermeto Pascoal and Heraldo do Monte. The style, in a Post-Tropicalia register, is reminiscent of Gilberto Gil's work at the same time, with a small dose of Jorge Ben for the most catchy tracks such as "Kilariô", Soul, Funk, Rock, which opens the album.

Eu Tenho Um Som Novo – Toni Tornado
Toni Tornado's sophomore, self-titled defies the majority of funk and soul albums of the time in excitement and experimentation. At its best, Toni Tornado is boasting heavy drums, complex melodic structure, Tornado's strong vocals, and inspired arrangements of rich baritone saxophones and brass sections.

Trem da Central – Sandra De Sá
She grew up in the Pilares district of Rio de Janeiro in a family of musicians. In her childhood she enjoyed attending carnival and dance events. In the 1970s she started singing and composing. In 1980 she participated in the MPB-80 festival of TV Globo with her composition "Demônio colorido" and recorded her first record Sandra Sá.

O Amigo De Nova York – Emílio Santiago

O Descobridor Dos Sete Mares – Tim Maia
Was a Brazilian soul and funk musician. The singer, songwriter, producer, conductor and multi-instrumentalist from Tijuca, Rio de Janeiros is considered one of the pioneers in introducing elements of soul music into Brazilian pop music and one of the greatest icons of Brazilian music of the 20th century.

Na baixa do sapateiro – Banda Black Rio
Compared to other soul-funk groups, such as Kool & the Gang and Earth, Wind and Fire, Banda Black Rio developed a particular style of instrumental soul music fusing together elements from a number of genres. This Band was the tightest Funk Band in Brazil.

Swinga Sambaby – Trio Mocoto
Trio Mocotó is a Brazilian band, originally formed in 1968 in the Jogral nightclub in São Paulo, and reformed in 2000. The group was influential in forming the musical style that became known as samba rock or samba soul. In 1969, they were backing Jorge Ben.

Funky Tamborim – Tania Maria
Tânia Maria learned to play the piano at the age of seven and won her first prize with a school band at thirteen. She studied law and romance languages and finally piano in Brasília. In 1971 she released her first album. In the mid-1970s she lived in France for a long time and performed in several countries. On the recommendation of Charlie Byrd, who was enthusiastic about her piano playing, she received a recording contract from Concord Records.

Desce daí – Gerson King Combo
Gérson Rodrigues Côrtes, known as Gerson "King" Combo. In the late 60s and early 70s, he formed a new band that accompanied him to the dances, not only in the south zone, but also in the north zone and the periphery of Rio. He was being acclaimed as "Brazilian James Brown". Gérson managed to record his two most successful records – Gerson King Combo, of 1977, and Gerson King Combo – Volume II, of 1978 – achieving radio and dance success, with "Mandamentos Black".

Black Soul Brothers – Miguel De Deus
This is the ultimate record by Miguel de Deus. Must be heard to be believed – what Sun Ra did for jazz, Miguel de Deus did for Brazilian funk during the 70s. "Black Soul Brothers" is from 1977.

Jimmy Renda-Se – Tom Zé
From Bahia was influential in the Tropicália movement of 1960s Brazil. After the military government of the began to crack down Tropicália, Zé moved out of the public eye and began to experiment with novel instruments and composition styles, thus remaining true to the experimental and Dada impulses of Tropicália. He has been noted for both his unorthodox approach to melody and instrumentation, employing various objects as instruments, but remained rather obscure.
The Playlist
Bobeira – Edson Frederico
Se Você Pensa – Erasmo Carlos, Frenéticas
O metrô – Carlos Dafé
Homem Pássaro – Hyldon
Odoya – S-Tone Inc, Toco
Não Vou Chorar – Os Diagonais
Bananeira – Emílio Santiago
A Praieira – Chico Science, Nação Zumbi
Umbabarauma – Jorge Ben Jor
Mais Kriola – Helio Matheus
Chuva De Cristal – Cassiano
Nem Vem Que Não Tem – Wilson Simonal
Nao Pode – Tony Bizarro
Kabaluere – Antonio Carlos & Jocafi
Deus Me Faca Funky – Skowa & Mafia
Que Vida E Essa – Wal Santana
Se O Mundo Acabasse Em Mel – Di Melo
Eu Tenho Um Som Novo – Toni Tornado
Trem da Central – Sandra De Sá
O Amigo De Nova York – Emílio Santiago
O Descobridor Dos Sete Mares – Tim Maia
Na baixa do sapateiro – Banda Black Rio
Swinga Sambaby – Trio Mocoto
Funky Tamborim – Tania Maria
Desce daí – Gerson King Combo
Black Soul Brothers – Miguel De Deus
Jimmy Renda-Se – Tom Zé