Before we hear the funky B-Side we have to listen to the sound of brasil music which is very close to the poetic language and its rhythm. With Luiza Maniquim we even got a delicacy from Portugal.
The Trip
Música Popular Brasileira
Música Popular Brasileira (MPB) is the name given today to popular music from Brazil, whereby "pop" can actually be equated with "popular". The connection to traditional Brazilian music is an important defining feature, although foreign styles such as rock or reggae are also integrated in various currents. For Brazilians, MPB is "nossa música", "our music", and is closely linked to their cultural and national self-image. Música Popular Brasileira is heard across all age and social classes.
Os Artistas
Brilhantina – Renata Rosa
The newest but beatiful track on the mix. Renata Rosa grasps the mystic universe within the traditional chants from Brazil's Northeast, highlighting the less regarded feminine influences of the outback's popular culture.
Tereza Guerreira – Antonio Carlos & Jocafi
Duet founded in 1969 by Antônio Carlos Marques Pinto and José Carlos Figueiredo. Active mainly in the 70s, they composed and played many TV soap opera soundtracks. "Tereza Guerreira" is from their self-titled LP from 1973.

Carolina, Carol Bela – Toquinho
Born in São Paulo, Toquinho is probably the most famous Brazilian guitarist of all times. In 1969 he went to Italy with his friend Chico Buarque and toured all over the country. But his greatest success began one year later when he joined singer Vinicius De Moraes, with whom he recorded dozens of records throughout the 1970s.

Disritmia – Martinho Da Vila
Composer who is considered to be one of the main representatives of samba and MPB. He is a prolific songwriter, with hundreds of recorded songs across over 40 solo albums. One of my favorite brazilian Songs "Distritimia" is on "Canta Canta, Minha Gente" from 1973.
I want to be exorcised by the holy water of that endless look.
How nice it is to be photographed but by the retinas of those beautiful eyes…

Disritmia, Martinho Da Vila
Take It Easy My Brother Charles – Jorge Ben Jor
Jorge Ben is the self-titled sixth studio album by Brazilian singer-songwriter and guitarist Jorge Ben. It was released in November 1969 by Philips Records. The album was his first recording for a major label since 1965 when his first stint with Philips ended due to creative differences. Ben recorded the album alongside producer Manoel Barenbein, the vocal/percussion band Trio Mocotó, and an orchestral section arranged by José Briamonte and Rogério Duprat.

Subirusdoistiozin – Criolo
Kleber Cavalcante Gomes or Criolo singer, rapper, songwriter and actor. With a career starting in 1989, he was originally known in Brazil as the creator of Rinha dos MC's, but has gained worldwide attention for his solo work. "Nó Na Orelha" is from 2011.

Hei! Você – Dom Salvador & Abolição
Dom Salvador, artistic name of Salvador da Silva Filho, instrumentalist, arranger and composer. With a classical background on the piano, he participated in the musical effervescence of Rio de Janeiro after the emergence of bossa nova, which had Beco das Garrafas as its meeting point and sought to join Brazilian samba with American jazz.

Garimpando – Marcos Valle
Marcos Kostenbader Valle, singer, songwriter, and record producer. He has produced works in many musical styles, including bossa nova, samba, and fusions of rock, soul, jazz, and dance music with Brazilian styles. "Vontade De Rever Você" is from 1981.

Cotidiano – Chico Buarque
Francisco "Chico" Buarque de Hollanda, popularly known simply as Chico Buarque, singer-songwriter, guitarist, composer, playwright, writer and poet. He is best known for his music, which often includes social, economic and cultural commentary on Brazil. He wrote and studied literature as a child and found music through the bossa nova compositions of Tom Jobim and João Gilberto. He performed as a singer and guitarist the 1960s as well as writing a play that was deemed dangerous by the Brazilian military dictatorship of the time. Buarque, along with several Tropicalist and MPB musicians, was threatened by the Brazilian military government and eventually left Brazil for Italy in 1969.

Trem Das Onze – Adoniran Barbosa
Traditional Brazilian samba singer and composer, born 6 August 1910, Valinhos, died 23 November 1982, São Paulo, Brazil. He was the most important composer of the paulista variation of samba, more acoustic guitar based, more melancholic and bucolic – even though he won several competitions of Carnival marches in Rio.
I can't stay another minute with you. I'm sorry, love, but it can't be. I live in Jaçanã, if I miss this train, which now leaves at eleven o'clock.

Trem Das Onze, Adoniran Barbosa
Filho Maravilha – Jorge Ben Jor
Jorge Duilio Lima Menezes performing under the stage name Jorge Ben Jor since the 1980s, though commonly known by his former stage name Jorge Ben. His characteristic style fuses samba, funk, rock and bossa nova with lyrics that blend humor and satire with often esoteric subject matter.[3] His hits include "Chove Chuva", "Mas Que Nada" and "Balança Pema", and have been interpreted by artists such as Caetano Veloso, Sérgio Mendes, Miriam Makeba, and Marisa Monte.
Cabide – Mart'nália
Brazilian singer, songwriter and percussionist, born in Rio De Janeiro. Daughter of Martinho Da Vila. The album "Menino do Rio" is from 2006.

Preciso Me Encontrar – Cartola
One of the founding fathers of the samba school Estação Primeira de Mangueira. The 2007 documentary film "Música Para os Olhos" directed by Lírio Ferreira and Hilton Lacerda is a profile of the life of Cartola.

Eu Te Devoro – Djavan (Ao Vivo)
Born into a poor family in Maceió, Djavan formed the group Luz, Som, Dimensão (LSD – "Light, Sound, Dimension"), playing Beatles' singles. In 1973, Djavan moved to Rio de Janeiro and started singing in local nightclubs. After competing in several festivals, he gained attention and recorded the album A Voz, o Violão e a Arte de Djavan in 1976. The album included the song "Flor de Lis", which became one of his most memorable hits.

Capoeira mata um – Jackson Do Pandeiro
Maybe the most original Brazilian percussionist/singer ever, and certainly the most influential one, Jackson do Pandeiro was, together with Luís Gonzaga, responsible for the nationwide dissemination of Northeastern Brazilian music. "O Cabra Da Peste" is from 1966.

Swing de Campo Grande – Novos Baianos
The band was formed in the 1960s and enjoyed success throughout most of the 1970s. The band members were Paulinho Boca de Cantor (vocals), Pepeu Gomes (electric guitar), Moraes Moreira (vocals and acoustic guitar), Baby Consuelo (vocals and percussion) and Luiz Galvão (lyrics). The group always counted on the collaboration of the band A Cor do Som composed of Pepeu Gomes (guitar), Dadi (bass), Jorginho (cavaquinho, drums and percussion), Baixinho (drums and percussion) and Bolacha (percussion). Novos Baianos is considered one of the most important and revolutionary groups in Brazilian music.

Tenha Fé, Pois Amanhã um Lindo Dia Vai Nascer – Os Originais Do Samba
The group began to perform at beaches and ballads, including the Copacabana Palace ballad. They settled in Recife after touring America, and in 1968 accompanied Elis Regina in the winning song of the 1st Samba Biennial, Lapinha, by Baden Powell and P.C. Pinheiro. They participated in festivals and won gold records for the sales of their recordings, especially in the 1970s, combining unison singing, standard clothes and a good dose of humor.

Luiza Manequim – Abilio Manoel
Abilio from Portugal was also a radio broadcaster, advertiser, film director, audio operator and composer of jingles and soundtracks. He lived a long time in Brazil.

Falador Passa Mal – Os Originais Do Samba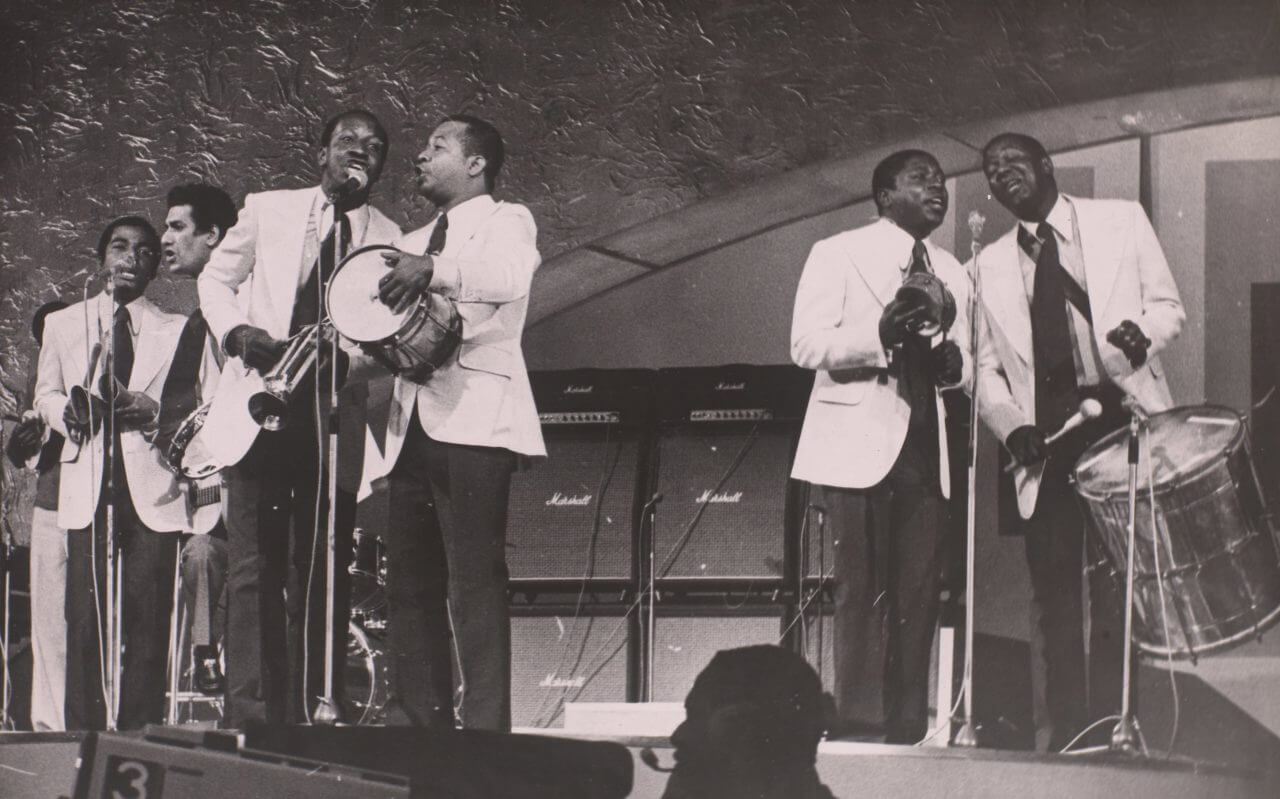 Vendedor de Bananas – Os Incríveis
Os Incredíveis is a Brazilian rock band formed in São Paulo in 1962. Due to the pressure generated by the success of this last song – by the press, the government and the record label, the band closes its activities in early 1972.

Samba do Arnesto – Adoniran Barbosa

Partido Alto – MPB4
MPB4 (Short for Música popular brasileira 4) is a vocal and instrumental Brazilian group formed in Niterói, Rio de Janeiro, in 1965, and has been active since. The group's main genres are sung samba and MPB, and they are considered among the best vocal interpretation group in Brazil. They have collaborated with Quarteto em Cy, Toquinho and Chico Buarque. In 2001, MPB-4 completed a 36-year career with the same formation.

Lotus 72 D – Zé Roberto
Joaquim Roberto Braga, who began his artistic career as Paulo Braga, is a composer, singer and instrumentalist of Brazilian Popular Music. Countless hits followed as "Lotus 72D" (homage to Emerson Fitipaldi's Formula 1 Championship).

Comanche – Jorge Ben Jor

Timoneiro – Paulinho Da Viola
Since 1966 albums have been released under his own name. Viola has also toured internationally, for example in 1972 with Maria Bethânia and Sebastião Tapajós in Australia.

Ando Meio Desligado – Os Mutantes
An influential Brazilian psychedelic rock band that emerged from the Tropicalismo movement in the late 1960s. Os Mutantes were formed in 1966 in São Paulo, Brazil by the brothers Arnaldo Baptista (bass, keyboards and vocals) and Sérgio Dias (guitar and vocals) and the singer Rita Lee. In 1971 the bassist Liminha and the drummer Dinho officially joined the band. Together they released 5 albums.

Baianá – Barbatuques
A Brazilian humorous musician group funded by Fernando Barba and consists of 15 musicians. The group produces music mainly focused on body percussion, including hand-clapping, whispers, finger claps, chest hitting, tap dancing, etc, resulting in rhythms like samba or rap, showing the power of collectivism and expressing it Brazilian-style.
The Playlist
Brilhantina – Renata Rosa
Tereza Guerreira – Antonio Carlos & Jocafi
Carolina, Carol Bela – Toquinho
Disritmia – Martinho Da Vila
Take It Easy My Brother Charles – Jorge Ben Jor
Subirusdoistiozin – Criolo
Hei! Você – Dom Salvador & Abolição
Garimpando – Marcos Valle
Cotidiano – Chico Buarque
Trem Das Onze – Adoniran Barbosa
Filho Maravilha – Jorge Ben Jor
Cabide – Mart'nália
Preciso Me Encontrar – Cartola
Eu Te Devoro – Djavan (Ao Vivo)
Capoeira mata um – Jackson Do Pandeiro
Swing de Campo Grande – Novos Baianos
Tenha Fé, Pois Amanhã um Lindo Dia Vai Nascer – Os Originais Do Samba
Luiza Manequim – Abilio Manoel
Falador Passa Mal – Os Originais Do Samba
Vendedor de Bananas – Os Incríveis
Samba do Arnesto – Adoniran Barbosa
Partido Alto – MPB4
Lotus 72 D – Zé Roberto
Comanche – Jorge Ben Jor
Timoneiro – Paulinho Da Viola
Ando Meio Desligado – Os Mutantes
Baianá – Barbatuques
Luiza Maniquim, Música Popular Brasileira. by Funkologie on Mixcloud