A delicious cake with loads of funky peaches and old school hip hop scratches'n'breaks…
Exemplified by figures
Hip-hop, cultural movement that attained widespread popularity in the 1980s and '90s; also, the backing music for rap, the musical style incorporating rhythmic and/or rhyming speech that became the movement's most lasting and influential art form.
You Got Me Floatin – P.M. Dawn
P.M. Dawn was an American hip hop and R&B act formed in 1988 by the brothers Attrell Cordes (known by his stage name Prince Be, sometimes credited as Prince Be the Nocturnal) and Jarrett Cordes (known as DJ Minutemix) in Jersey City, New Jersey. They earned significant crossover success in the early 1990s with music that merged hip hop, older soul, and more pop-oriented urban R&B.

Good Feelin' – Capitol 1212, MCM, Dj Sheep, Mike G, Dizzy Dustin, Cadence
Take elements of Reggae, Grime, Jungle, Dancehall, Ska and Hip Hop, add conscious lyrics, big bass lines and a big dose of carnival and you start to get close to describing the Capitol 1212 Sound.
I Can Get It Myself (feat. Bionik) – Aceyalone, Bionik
Edwin Maximilian "Eddie" Hayes, Jr. (born September 30, 1970), better known by his stage name Aceyalone is an American rapper from Los Angeles, California, United States. He is a member of Freestyle Fellowship, Haiku D'Etat and The A-Team and a co-founder of Project Blowed. Aceyalone is best known for his role in evolving left-field hip-hop on the West Coast at a time when the West Coast was dominated by gangsta rap.

Behind The Scenes – Single Mix – DJ Format, Abdominal
Matt Ford, better known as DJ Format (a near-inversion of his birth name) is a hip hop DJ born in Southampton, England who lives in Brighton. He collaborates frequently with Abdominal on the album Music For the Mature B-Boy and with Abdominal and fellow Canadian rapper D-Sisive on the second full album "If You Can't Join 'Em… Beat 'Em" as well as with Akil and Chali 2na from Jurassic 5.

Straight out the Sewer – Das EFX
Das EFX Duo consists of emcees Dray (also known as Krazy Drayz, born Andre Weston, September 9, 1970) and Skoob (also known as Books, born William "Willie" Hines, November 27, 1970). They named themselves "DAS" standing for "Dray and Skoob" and "EFX" meaning "effects". They rose to popularity in the early 1990s due to the duo's stream of consciousness lyrical delivery, which became one of the most influential lyrical styles in hip hop music at the time; as well as their affiliation with EPMD's Hit Squad. Their style combined intricate rhymes, sometimes mixed with made up words (especially ending with "-iggedy"), delivered with a fast-paced flow and numerous pop culture and hip hop culture references.

Funky Junky Monkey – Shaka Ponk
Shaka Ponk (sometimes abbreviated as SHKPNK) is a French electro rock band formed in Paris in 2004. They mix different forms of popular music into their songs in addition to world music, although predominantly with an electronic and experimental rock sound. Their lyrics are mostly in English, though they sometimes sing in French and Spanish. One of the hottest live crew around…

Action (Ja, Ja, Ja!) – Jansen & Kowalski
Jansen & Kowalski had already been musically active together since the mid-1990s in the Hamburg scene band "Klaus Kinski Band", which was dedicated to the genres Blaxploitation and Soul Jazz. In 2004, the two founded their own band and released their first single "Action".

The Godfather – Spoonie Gee
Gabriel Jackson, better known by his stage name Spoonie Gee, is one of the earliest rap artists, and one of the few to have released rap records in the 1970s. He has been credited with originating the term hip hop and some of the themes in his music were precursors of gangsta rap.

Lady Don't Tek No – Latyrx
Latyrx is an American alternative hip hop duo consisting of Lateef the Truthspeaker and Lyrics Born. The roots of their partnership lay in the formation of the Solesides collective at the University of California, Davis.
The crew's charter members—which also included DJ Shadow and the future Blackalicious team—were all involved in student radio and shared a progressive-minded approach to hip hop.

Comin' Thru – Chali 2na
Charles Stewart (born June 26, 1971), better known as Chali 2na, is associated with the groups Jurassic 5 and Ozomatli. He is known for his baritone and quick delivery rapping style.

He Got Game – Public Enemy, Stephen Stills
"He Got Game" is a soundtrack and sixth studio album by American hip hop group Public Enemy, released on April 28, 1998 under Def Jam Recordings. It was released as the soundtrack to Spike Lee's 1998 film of the same name and was the group's last album for Def Jam. He Got Game was produced by members of the Bomb Squad, along with producers Abnes Dubose, Danny Saber, D. R. Period, and Jack Dangers.

Back To Basics – Skunkhour
Skunkhour began as an urban funk band with the Sutherland brothers—Dean on bass guitar and Michael on drums—and Warwick Scott on lead guitar. They relocated to Sydney by 1992 and were joined by the Larkin brothers—Aya on lead vocals and Del as a rapper—both of whom had a background in ska bands. Del's departure in late 1996 marked a stylistic shift from funk and rap to more melodic funk-based rock

Top Qualified – Lateef, Haiku D'Etat, Blackalicious, Lyrics Born
Tell Me Something Good – Ronnie Laws, Stevie Wonder

Straighten It Out – Pete Rock & C.L. Smooth
Peter O. Phillips better known by his stage name Pete Rock, is an American record producer, DJ and rapper. He rose to prominence in the early 1990s as one half of the critically acclaimed group Pete Rock & CL Smooth. Early on in his career, he was also famed for his remix work.

People Everyday – Arrested Development
Arrested Development is an American hip hop group that formed in Atlanta in 1988. It was founded by Speech and Headliner as a positive, Afrocentric alternative to the gangsta rap popular in the late 1980s. Baba Oje and frontman Speech met at the University of Wisconsin–Milwaukee when they were both students. Baba Oje was 57 years old at the time.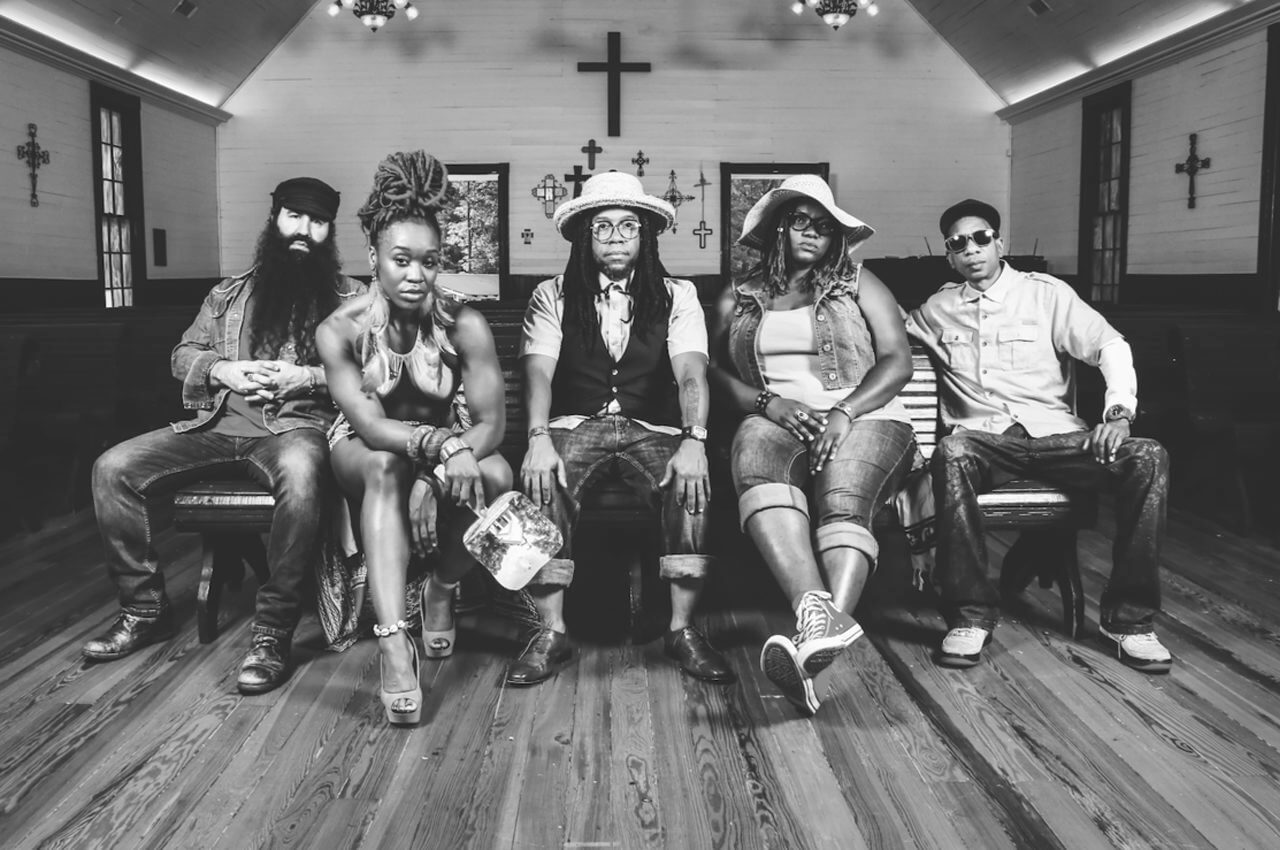 Won't Trade – Q-Tip
Kamaal Ibn John Fareed better known by his stage name Q-Tip, is an American rapper, record producer, singer, actor and DJ. Nicknamed The Abstract, he is noted for his innovative jazz-influenced style of hip hop production and his philosophical, esoteric and introspective lyrical themes. He embarked on his music career in the late 1980s, as an MC and main producer of the influential alternative hip hop group A Tribe Called Quest.

Freedom – Horndogz, Bibi Tanga
The trio was founded by Eric Rohner, Gilles Garin and Ricco Kerridge. They met in the 1990s in the circle of the Parisian band Malka Family and have already played with artists such as George Clinton, Jimmy Cliff, Tony Allen, Amp Fiddler, Dele Sosimi Afrobeat Orchestra or Juan Rozoff.

The Only One – Danger Mouse, Jemini the Gifted One
Brian Joseph Burton better known by his stage name Danger Mouse, is an American musician, songwriter and record producer. He formed Gnarls Barkley with CeeLo Green and produced its albums St. Elsewhere and The Odd Couple. In 2009 he collaborated with James Mercer of the indie rock band The Shins to form the band Broken Bells. In addition, Burton worked with rapper MF Doom as Danger Doom and more…
A Jack of all trades.
Playlist
You Got Me Floatin – P.M. Dawn
Good Feelin' – Capitol 1212, MCM, Dj Sheep, Mike G, Dizzy Dustin, Cadence
I Can Get It Myself (feat. Bionik) – Aceyalone, Bionik
Behind The Scenes – Single Mix – DJ Format, Abdominal
Straight out the Sewer – Das EFX
Funky Junky Monkey – Shaka Ponk
Action (Ja, Ja, Ja!) – Jansen & Kowalski
The Godfather – Spoonie Gee
Lady Don't Tek No – Latyrx
Comin' Thru – Chali 2na
He Got Game – Public Enemy, Stephen Stills
Back To Basics – Skunkhour
Top Qualified – Lateef, Haiku D'Etat, Blackalicious, Lyrics Born
Tell Me Something Good – Ronnie Laws, Stevie Wonder
Straighten It Out – Pete Rock & C.L. Smooth
People Everyday – Arrested Development
Won't Trade – Q-Tip
Freedom – Horndogz, Bibi Tanga
The Only One – Danger Mouse, Jemini the Gifted One
A delicious cake with loads of funky peaches and old school hip hop scratches'n'breaks… by Funkologie on Mixcloud