A super fine selection collection of my favourite soul tunes.
The Softparade
The Women Gather – Nikki Giovanni
American poet, writer, commentator, activist, and educator. One of the world's most well-known African-American poets, her work includes poetry anthologies, poetry recordings, and nonfiction essays, and covers topics ranging from race and social issues to children's literature.

That's the Way You Move – Arthur Adams
A veteran blues guitarist of the 1950s-60s, who moved into funk in the 70s with his own releases and working with The Crusaders. The 80's saw him touring on bass for Nina Simone and returning to the blues. He is still recording and performing the blues.

Modesa – Sherlock Holmes Investigation
This is a super rare soul/funk record where Carl tries to close the gap between R&B, jazz and psychedelic rock by the creation of a sound that is funky, mellow, intricately soulful and explosive, yet uniquely disciplined in its complexity. The funky Latin jamming of "Modesa" is from 1974's "Investigation No.1".

No Sad Songs – Four Tops
The Four Tops are a vocal quartet from Detroit, Michigan who helped to define the city's Motown sound of the 1960s. The group's repertoire has included soul music, R&B, disco, adult contemporary, doo-wop, jazz, and show tunes. Founded as the Four Aims, lead singer Levi Stubbs, Abdul "Duke" Fakir, Renaldo "Obie" Benson and Lawrence Payton remained together for over four decades, performing from 1953 until 1997 without a change in personnel. The wonderful Anti Drug Song "No Sad Song" is from 1974's "Meeting Of The Minds".

Super Fine – The Soul Generation
A long-running New Jersey vocal quartet, Soul Generation started in the early '70s with Cliff Perkins, Jeff Burgess, Herman Hammond, and Earl Davenport. Later the group was continued by Perkins, this time joined by Ted West and Veda LaRue. They kept busy working with producer Tony Camillo, adding harmony vocals and arranging productions at his studio. The Super fine record "Beyond Body And Soul" was recorded in 1972.

Whipped & Whipped – Snoopy Dean
The late Nathaniel 'Snoopy' Dean is one of those many underrated southern soul and blues men who never reached great fame outside their home ground. His legacy is deeply treasured though by hardcore black music followers. In the late sixties he instigated the now very sought after group Third Guitar who recorded some great sides for the Rojac label out of NYC. He subsequently became a member of the Deep City Band and started recording under his own name. In the early to mid seventies Dean made five singles and an album "Wiggle That Thing" on Henry Stone's Blue Candle imprint which is being reissued here. The album – originally released in 1977.

Let's Straighten It Out – Nigel Hall
Nigel Hall is a soul singer and keyboard player from Portland, ME signed to the Royal Family Records.He also collaborated with other bands from the Royal Family, most notably Lettuce (on Makin' My Way Back Home from Rage!) and Soulive (on Too Much and Prototype from Up Here).

Back Stabbers – The O'Jays
"Back Stabbers" is a studio album by Philadelphia soul group The O'Jays, released in August 1972. Recording sessions for the album took place at Sigma Sound Studios in Philadelphia, Pennsylvania in 1972. This Album was a breakthrough album for the group, reaching the top 10 of the Billboard Pop Albums chart and selling over 500,000 copies within a year of release. It also featured two of their most successful singles "Back Stabbers" and "Love Train", which hit number one on the Billboard Pop Singles chart.

Don't Let Me Be Misunderstood – Joe Cocker

Take Me With You – Lyn Christopher
Pop singer who released work in the 1970's. Her one and only album from 1973 is notable for featuring pre-KISS members Gene Simmons and Paul Stanley on backing vocals.

Live On – The Flying Stars Of Brooklyn NY
The Flying Stars of Brooklyn, NY is the gospel recording project of Aaron Frazer- drummer and occasional singer of Durand Jones & The Indications.

Who Is She (And What Is She To You) – Gladys Knight & The Pips
From 1973's "Neither One Of Us". Gladys Knight & the Pips were an R&B/soul family musical act from Atlanta, Georgia that remained active on the music charts and performing circuit for three decades. Starting out as simply The Pips in 1952, derived from a cousin's nickname, the founding members were Gladys Knight, brother Merald "Bubba" Knight, sister Brenda Knight and cousins Eleanor and William Guest. After a couple of years performing in talent shows, the group signed with Brunswick Records in 1957, recording a couple of singles that failed to chart. Brenda Knight and Eleanor Guest were eventually replaced by another cousin, Edward Patten and a non-relative, Langston George in 1959. This lineup produced the group's first hit single, "Every Beat of My Heart". After the single was released on three different labels, they changed their name to Gladys Knight & the Pips in 1961. Langston George left the same year and Gladys Knight left in 1962 to start a family with musician Jimmy Newman. Knight rejoined in 1964 and this lineup continued until the group's disbandment in 1989.

Beg Me – DeRobert & The Half-Truths
Music City's got Soul and DeRobert Adams is the proof in the pudding. Pairing powerful vocals with raw soul instrumentation by way of the Half-Truths, this Nashville, TN combo have helped put their G.E.D. Soul Records on the map.

Strolllin' – Oliver Sain St. Louis Breakdown
See also our story on Funkopedia.

Tears of the World – Mighty Sam McClain, Knut Reiersrud
Vocalist Mighty Sam McClain is a specialist in Southern soul-blues, one of the original masters from the 1960s, when the music enjoyed its peak popularity. His excellent '90s recordings are now widely available, but that wasn't always the case.

Are You Looking? – Congress Alley
Short-lived family group featuring husband and wife Lee Andrews and Jacqui Andrews, and Jacqui's sister Karen Briscoe. "Are You Looking" from their only album, Congress Alley, was sampled by Dr. Dre on Nuthin' But A G Thang.

Freak's Prayer – Rasputin's Stash
Funk group from Chicago, made two albums in the first half of the 70s + two additional albums on Family Groove & Athens Of The North of previously unreleased material recently unearthed from master tapes once thought to be lost.

Space Children – LaBelle
From "Nightbirds" (1974). Labelle is an American all-female singing group who were a popular vocal group of the 1960s and 1970s. The group was formed after the disbanding of two rival girl groups in the area around Philadelphia and Trenton, the Ordettes and the Del-Capris, forming as a new version of the former group, then later changing their name to the Blue Belles (later Bluebelles). The founding members were Patti LaBelle (formerly Patricia Holt), Cindy Birdsong, Nona Hendryx, and Sarah Dash.

Do the Right Thing – Angel Lo Verde, Florian Mikuta
Angel Lo Verde is a self-taught multi-instrumentalist musician and performs in Athens since 1995 in various bands as a bass & guitar player.
She joined the Meanie Geanies (60ies garage/punk band) as a drummer in 1997. The very same day the band decided that Angel should play guitar for the band and the basic line up completed. The Album "Angel Lo Verde" was released 2017.

Look Through My Eyes – Rufus & Chaka Khan
Rufus was an American funk band from Chicago, Illinois, best known for launching the career of lead singer Chaka Khan. Rufus and Chaka Khan were one of the most popular and influential funk bands of the 1970s, with four consecutive number one R&B albums.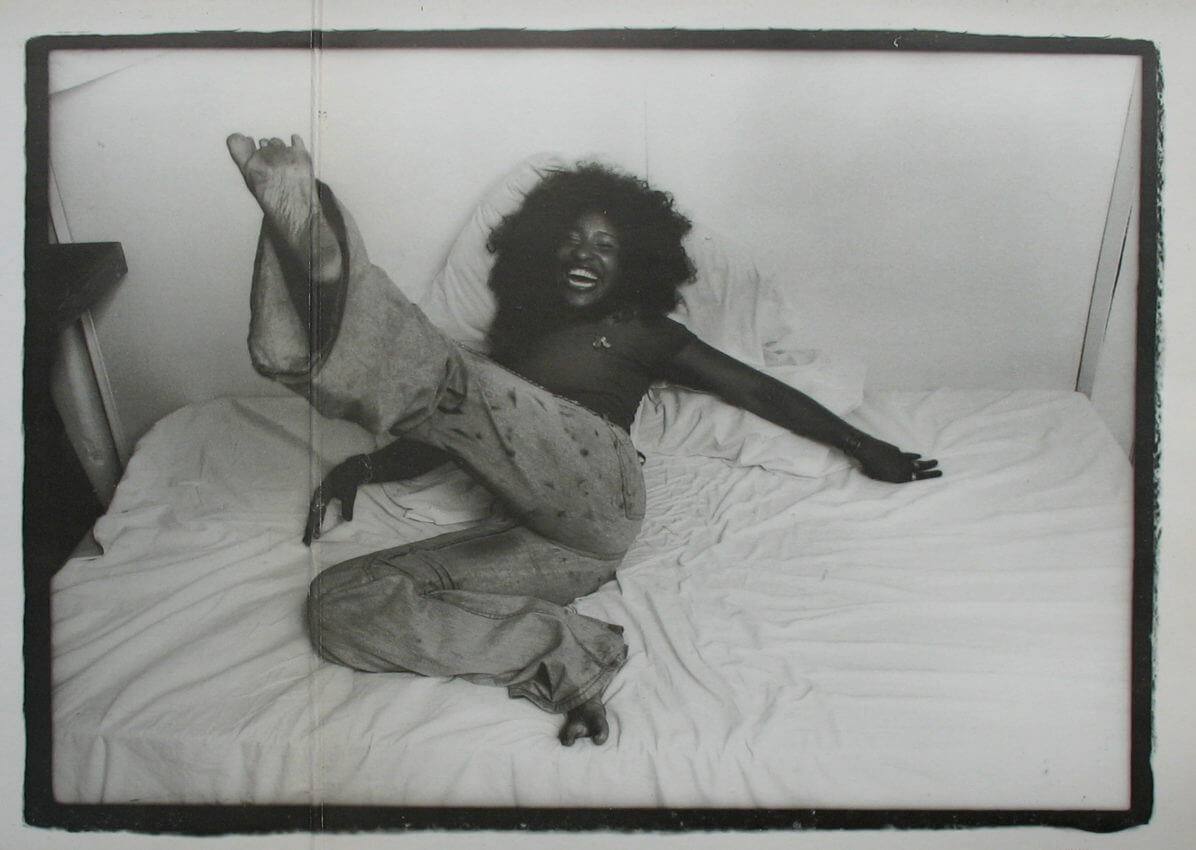 I'll Be Around – The Spinners
The Spinners were the greatest soul group of the early '70s, creating a body of work that defined the lush, seductive sound of Philly soul. Ironically, the band's roots lay in Detroit, where they formed as a doo wop group during the late '50s. Throughout the '60s, the Spinners tried to land a hit by adapting to the shifting fashions of R&B and pop. By the mid-'60s, they had signed with Motown Records, but the label never gave the group much consideration.

Feeling Something – Ronn Matlock
Detroit native Ronald "Ronn" Matlock's musical journey has largely resided behind the scenes as a songwriter on myriad of projects, getting his first cuts at Motown Records. He made a brief recording appearance on the soul scene in 1979; however, his musical talents have been utilised on many projects over the years.

Stomp! – The Brothers Johnson
"Stomp!" is a big number released by The Brothers Johnson from their fourth album, "Light Up the Night", in early 1980. It reached number one on the Dance singles chart.It reached number one on the R&B singles chart and peaked at number 7 on the Billboard Hot 100 in early 1980. It was a bigger success in the UK, where it peaked at number 6 on the singles chart.

Playlist
The Women Gather – Nikki Giovanni
That's the Way You Move – Arthur Adams
Modesa – Sherlock Holmes Investigation
No Sad Songs – Four Tops
Super Fine – The Soul Generation
Whipped & Whipped – Snoopy Dean
Let's Straighten It Out – Nigel Hall
Back Stabbers – The O'Jays
Don't Let Me Be Misunderstood – Joe Cocker
Take Me With You – Lyn Christopher
Live On – The Flying Stars Of Brooklyn NY
Who Is She (And What Is She To You) – Gladys Knight & The Pips
Beg Me – DeRobert & The Half-Truths
Strolllin' – Oliver Sain St. Louis Breakdown
Tears of the World – Mighty Sam McClain, Knut Reiersrud
Are You Looking? – Congress Alley
Freak's Prayer – Rasputin's Stash
Space Children – LaBelle
Do the Right Thing – Angel Lo Verde, Florian Mikuta
Look Through My Eyes – Rufus & Chaka Khan
I'll Be Around – The Spinners
Feeling Something – Ronn Matlock
Stomp! – The Brothers Johnson
A super fine selection collection of my favourite soul tunes. by Funkologie on Mixcloud
RELATED LINKS: