During the Cold War, the Soviet Union was a place filled with restrictive laws and extreme xenophobia. So, it's not surprising that Communist officials would want to control just what music was broadcast on government-sanctioned radio stations. But there were a lot space for music in Poland, Ungaria, Yugoslavia and other satellite states to experiment funk and Jazz Rock. Welcome to a huge synthesizer wall behind the curtains.
The Trip
товарищ джазовая музыка
Nuclear Radiation – Otakar Olšaník & Jan Martiš
"Advanced Process" from 1986 is an amazing electronic library sound packed with incredible spacey disco tracks! Bang-on floor bombs and amazing galactic sounds in Atomic Plant, Fusion Point, Nuclear radiation, Regulators, Data Load, Modem, Robot Masters and Digiheart.

Match-Ball – Zbigniew Górny Orchestra
Górny attended the Music High School until 1968, studied music education at the Poznan Academy of Music until 1973, and then spent two years conducting. Since 1970 he has participated in programmes of the cabaret Tey. In 1973 he became music director of Estrada Poznańska and Teatr Nowy. From 1976 to 1991 he was director and conductor of the PRiTV Orchestra in Poznan. Since then he has been conducting his own Górny Orchestra and Górny Productions.

Jak ja to wytrzymam – Kombi
Kombi is one of the most popular Polish pop-rock groups of the 80's. The band was founded in Gdańsk in 1976 by keyboard player Sławomir Łosowski, who invited drummer Jan Pluta, guitarist and vocalist Grzegorz Skawiński and bassist Waldemar Tkaczyk.

Berlin I – Tihomir "Pop" Asanović
Tihomir "Pop" Asanović is a Croatian jazz-rock and fusion keyboardist, Hammond organ player and composer who has played in 1970s and in early 1980s in various Yugoslavian musical line-ups and toured with them around the world. On the 1973 tour with Boško Petrović in East Berlin, he was proclaimed as being one of best jazz organist in Europe.
Lisinski I – Spektar
Spektar was formed in early 1974 Zagreb by keyboardist and composer Enco Lesić who had just left INDEXI leaving behind his song "Sve ove godine" which earned them a smash hit in 1972. 
The band was named after the success of Billy Cobham's "Spectrum" LP. The members included: Davor Rocco on bass, Dragan Brčić on drums, Neven Franges on piano and Lesić on assorted keyboards. Franges soon dropped due to his academic and jazz career but continued to collaborate with the band on stage.

Hop-Cup – Bijelo Dugme
Bijelo dugme (White Button) was a Yugoslavian rock band from Sarajevo, Bosnia and Herzegovina. Bandleader and guitarist was Goran Bregović. Bijelo dugme was generally considered the most popular band of socialist Yugoslavia and has an amazing discographie.

Nora – Neoton
Neoton was one of the most successful Hungarian pop-bands, their career spanning several decades, with changes in line-up. From 1979 to 1989, the band sold over 6 million records in Hungary and about 1.5 million records in other countries and takes on this indicator second place behind the famous band Omega.

Fortepian w rzece – Urszula Sipinska
Urszula Sipińska is a Polish singer-songwriter, architect and writer. Within twenty years of her musical career she earned numerous hits in Poland. She has won many awards and performed in Poland and abroad. At the turn of the 1980s and 1990s, Sipińska ended her singing career, focusing on architecture and writing.

Zechcesz mnie, zechcesz – Czesław Niemen
In the early 1970s, Niemen recorded three English language albums under the CBS label, two of them (and three more in Poland) with the Silesian band SBB. With SBB Niemen performed at the Rock & Jazz Now! opening show for the 1972 Summer Olympics in Munich sharing the stage with Mahavishnu Orchestra, John McLaughlin and Charles Mingus and subsequently toured with Jack Bruce's band.

Драконография – Larisa Dolina
Larisa Dolina (Лариса Александровна Долина) is a celebrated Russian jazz singer, pop singer, and actress. In 1998 she was named a Folk Artist of Russia, and she is also a three-time recipient of the Russian National Ovation (Овация) prize.

Księżniczka mego serca – Andrzej Zaucha
Zaucha was born and lived in Kraków. In his teens, he achieved nationwide success in canoeing. After school he became a typesetter. Zaucha never had any musical education, however, he was raised in a musical environment as his father was a drummer in the band that performed small gigs at the dancing-parties.

Der blaue Planet – Karat
When the jazz concept of his group Panta Rhei lost popularity in the mid-1970s, bassist Henning Protzmann decided to form a new band. In September 1981, Karat presented the song "Der blaue Planet" for the first time during a live performance on the occasion of the World Peace Day at August-Bebel-Platz in East Berlin. The single, which was released a little later, became a big seller and raised the expectations of the audience and the media.

Draco – Branislav Živković
is a Croatian musician (keyboards, flute player), producer and composer from Zagreb.

С тестовой пластинки – В помощь любителям грамзаписи

Whisky Sour – Janusz Popławski
guitarist, composer, arranger, publicist and publisher. In 1956 he made his debut as a guitarist and vocalist in the band Błękitne Gwiazdy w Nowej Soli, as a double bass player in a jazz band in Szczecin. He was known for his long-time cooperation with the band Niebiesko-Czarni, with which he performed and recorded since 1963. In the 60s and 70s he was repeatedly considered the best rock guitarist in Poland in polls. He was a co-composer of the first Polish rock opera "Naga".

Funky Dla Franki – Laboratorium
The album "Modern Pentathlon" was released in the Polish Jazz series in 1976. The leader, Janusz Grzywacz, said so about them: "They are light, shapely and pleasant pieces, so that various audiences can listen to them". Excellent groove, juicy parts of Fender's foam and beautiful, funky themes.

Ucisk V Dolku – SBB
SBB (first known as Silesian Blues Band, later as Szukaj, Burz, Buduj – Polish for "Search, Break up, Build") is a Polish progressive rock band formed in 1971 in Siemianowice, Upper Silesia. It consisted of multi-instrumentalist and vocalist Józef Skrzek, a young guitar player Apostolis Anthimos, the drummer Jerzy Piotrowski and sound engineer Grzegorz Maniecki. It was one of the most popular super-groups in Poland and Europe in the 1970s.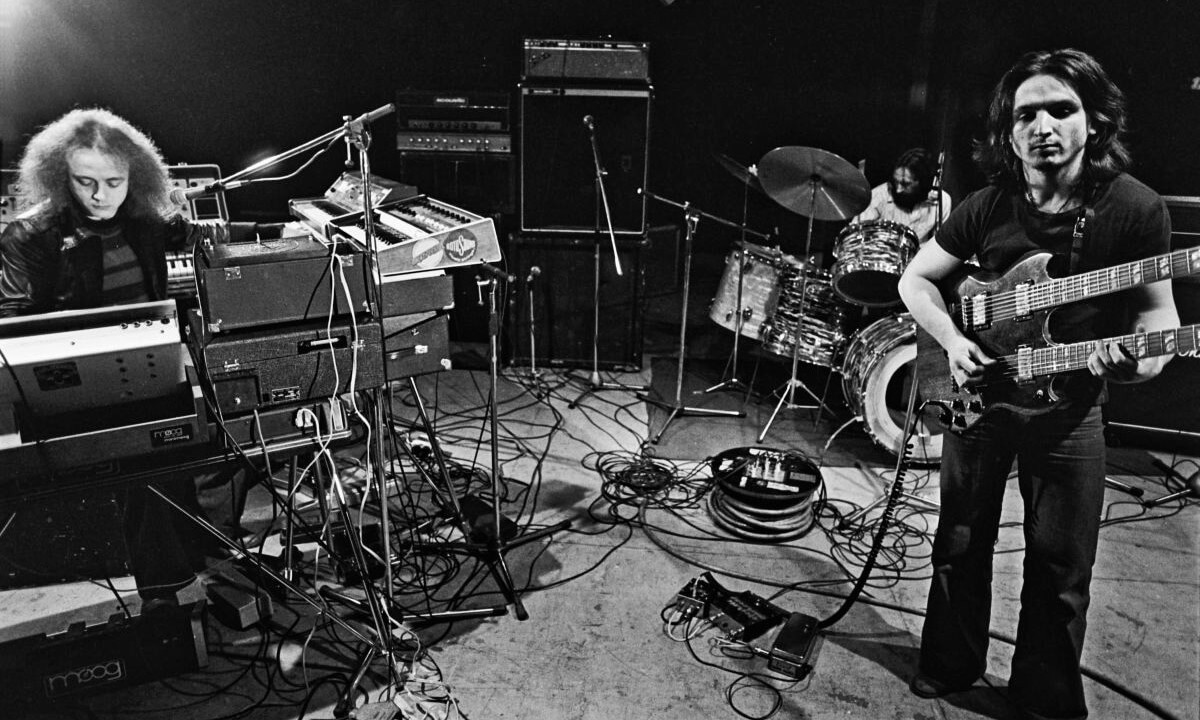 Tabu – Josef Bláha, Gustav Brom, Orchestr Gustava Broma
Absolutely superb 45 from Panton in 1976. Part 3 of the Mini Jazz Klub series. Played by Gustav Brom's Orchestra, this 45 is as you might guess in memory of Josef Blaha, Gustav's organ / piano player who died in a car crash in Ostratice, Slovakia 3 years earlier.

Žozefīno – Mirdza Zīvere
Mirdza Zīvere is a Soviet and Latvian singer, currently a producer and head of SWH radio advertising department.
Playlist
Nuclear Radiation – Otakar Olšaník & Jan Martiš
Match-Ball – Zbigniew Górny Orchestra
Jak ja to wytrzymam – Kombi
Berlin I – Tihomir "Pop" Asanović
Lisinski I – Spektar
Hop-Cup – Bijelo Dugme
Nora – Neoton
Fortepian w rzece – Urszula Sipinska
Zechcesz mnie, zechcesz – Czesław Niemen
Драконография – Larisa Dolina
Księżniczka mego serca – Andrzej Zaucha
Der blaue Planet – Karat
Draco – Branislav Zivkovic
С тестовой пластинки – В помощь любителям грамзаписи
Whisky Sour – Janusz Popławski
Funky Dla Franki – Laboratorium
Ucisk V Dolku – SBB
Tabu – Josef Bláha, Gustav Brom, Orchestr Gustava Broma
Žozefīno – Mirdza Zīvere
The Soviets by Funkologie on Mixcloud
RELATED LINKS: