A enlighted trip from John Wooler!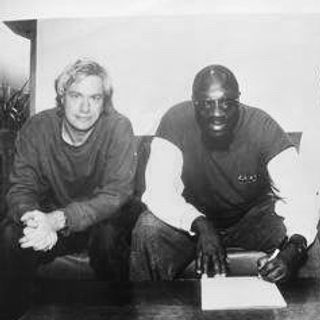 John Wooler
Ex Virgin records Exec, Founder of the Blues label Pointblank featuring artists like John Lee Hooker, John Hammond, Isaac Hayes, Charlie Musselwhite, Van Morrison, Pop Staples, Johnny Winter, Albert Collins to name a few…
John is radio host on Space 101.1fm in Seattle and The Isolation station in the UK. He graces us with this little jewel.
The best singer in town…
This mix is about amazing jewels of soul. Even the beginning makes it clear that these entertainers never had the success they deserved. In the first song there is already Soul for all. Nate Evans, Soul singer from Gary, Indiana. In the mid 70s he joined The Impressions to replace Ralph Johnson. The single is best regarded for "Main Squeeze" a triumphant mid-tempo number with uplifting horn stabs penned by Earl Randle prior to his work at Hi in Memphis.

Another beauty is the "The Philly Freeze" by Alvin Cash & The Registers. Cash went solo after a few further singles and recorded an album in tribute to Muhammad Ali. He also acted in several blaxploitation films, such as Petey Wheatstraw and Black Bart. He continued performing in the Chicago area into the 1990s.
Billy Lee Riley was a 50's Rockabilly singer, best known for his recordings for Sun Records of Memphis. "Going Black To Memphis" is B-Side from 1968.
Another Jewel further on by Cash McCall an electric blues guitarist, singer and songwriter. He was best known for his 1966 R&B hit "When You Wake Up". Over his long career, his musical style evolved from gospel music to soul music to the blues. "Junkie For Your Love" was released in 1974.
Also happy about the sight of Swamp Dogg, releasing a series of satirical, offbeat, and eccentric recordings, as well as continuing to write and produce for other musicians.

For me the Highlight is for sure "Tennesee Waltz" from Otis Wheat also to find on the great compilation Lost Soul Gems From Sounds Of Memphis. Thank you John for this gorgeous bit of music.
Michel from Funkologie
Playlist may follow… :-)