Talking about Mixcloud with my friend Franco Ponticelli we came up with the idea to create a mix together. He sent me a great psychedelic soul playlist and I was delighted with it. Here now the a bit drug-drenched but beautiful baby.
Colour Combination
Fits to the last mix "Third Rock", if you like…
Avaricious Pigs – Geronimo Pratt
I Am The Black Gold Of The Sun – Rotary Connection, Minnie Riperton
Rotary Connection was a psychedelic soul band, formed in Chicago in 1966.
In addition to their own recordings, including their 1967 debut album Rotary Connection, the band is notable as the backing band for Muddy Waters on his 1968 psychedelic blues album Electric Mud. The band's members included Minnie Riperton, who would emerge as a notable solo artist.

Our Lives Are Shaped By What We Love – Odyssey
Released one album on Tamla Motown subsidiary MoWest in 1972.
The beauty "Our Lives Are Shaped By What We Love" from their only album.

Strawberry Fields Forever – Richie Havens
Richie Havens who died in 2013, was a singer-songwriter and guitarist. His music encompassed elements of folk, soul, and rhythm and blues. He notably gave the opening performance at the Woodstock Festival in 1969.
We think the written by John Lennon fits perfectly in.

Frame Of Mind – The Bar-Kays
From their fantastic album "Cold Blooded" from 1974.

Would You Believe In Me – Jon Lucien
Jon Lucien born Lucien Harrigan on the island of Tortola, the main island of the British Virgin Islands, and raised in Saint Thomas, U.S. Virgin Islands by his musician father. His smooth baritone drew comparisons with Nat King Cole and Lou Rawls.

Run Charlie Run – The Temptations
The group, known for its finely tuned choreography, distinct harmonies, and stylish suits, has been said to be as influential to soul as The Beatles are to rock. Having sold an estimated 22 million albums by 1982, The Temptations are one of the most successful groups in black music history and were the definitive male vocal group of the 1960s.

Born To Wander – Rare Earth
Rare Earth featuring the singing Floyd Stokes Jr. on drums was affiliated with Motown's Rare Earth record label. Although not the first white band signed to Motown, Rare Earth was the first big hit-making act signed by Motown that consisted only of white members.

Buttermilk Bottom – Spirit Of Atlanta

El Soul Condor – Peter Herbolzheimer Rhythm Combination & Brass
Romanian-German jazz trombonist and bandleader with the crazy and adapted number from "El Cóndor Pasa" based on traditional Andean music, from Peru.

California Dreaming – Monophonics
Raised amid the Bay Area's rich musical culture, Monophonics has proudly carried on the tradition of music native to their hometown, which flourished during the birth of psychedelia. Monophonics were formed in 2005; originally a instrumental ensemble comprised of guitarist Ian McDonald, bassist Myles O'Mahony, saxophonist Alex Baky, trumpeter Ryan Scott, and drummer Austin Bohlman, the band has recently added the dynamic soul vocals of keyboardist Kelly Finnigan. The result is a psychedelic soul & heavy funk sound, which harks back to the stylings of the late 60's and early 70's, all while keeping its feet planted in the present.

I Just Want To Celebrate – David Ruffin
David Eli Ruffin, soul singer and musician most famous for his work as one of the lead singers of the Temptations (1964–68) during the group's "Classic Five" period as it was later known. Known for his unique raspy and anguished baritone vocals, Ruffin was ranked as one of the 100 Greatest Singers of All Time. He was inducted into the Rock and Roll Hall of Fame in 1989 for his work with the Temptations.

Sunshine Of Your Love – The 5th Dimension
The 5th Dimension is an American popular music vocal group, whose repertoire includes pop, R&B, soul, jazz, light opera, and Broadway: this melange was called "Champagne Soul". Two covers in a row.

Rocks in My Head – The 8th Day
Again a Holland, Dozier – Holland songwriting team had scored hits in 1970 with the group 100 Proof (Aged in Soul). When the latter's song "Somebody's Been Sleeping in My Bed" became a hit, radio stations also began playing the tune "She's Not Just Another Woman". HDH wanted to release the song as another single, but did not want to hurt the sales of "Somebody's Been Sleeping in My Bed", so they released "She's Not Just Another Woman" on Invictus Records under the name 8th Day in 1971.
See Saw Affair – Cesar 830
One of the great lost Latin soul albums of the 1970s. Recorded by Cesar Ascarrunz, a Bolivian expat and San Francisco nightclub owner, it is collected today for the soul dancer "See Saw Affair". It is however a wonderful blend of many latin styles Beat Goes Public.
Colour Combination – Jack Hammer
Earl Solomon Burroughs better known by his stage name Jack Hammer, was an American pianist, singer and songwriter probably best known as the co-writer with Otis Blackwell "Great Balls Of Fire". In 1956 he made his first recording. Soft Cell covered "Down In The Subway" in their 1984 single and Marc Almond has sung live few of his compositions. The beautiful "Colour Combination" is from 1971.
Take These Chains – Bloodstone
Formed in 1962, in Kansas City, Missouri, the group was a high school doo-wop group called the Sinceres. Bloodstone was instrumental in the "black rock" and funk movement of the 1970s, and even had a hand in the brown-eyed soul movement with some Latin music-tinged hits. Bloodstone performed with Marvin Gaye, Curtis Mayfield, Elton John and The Impressions.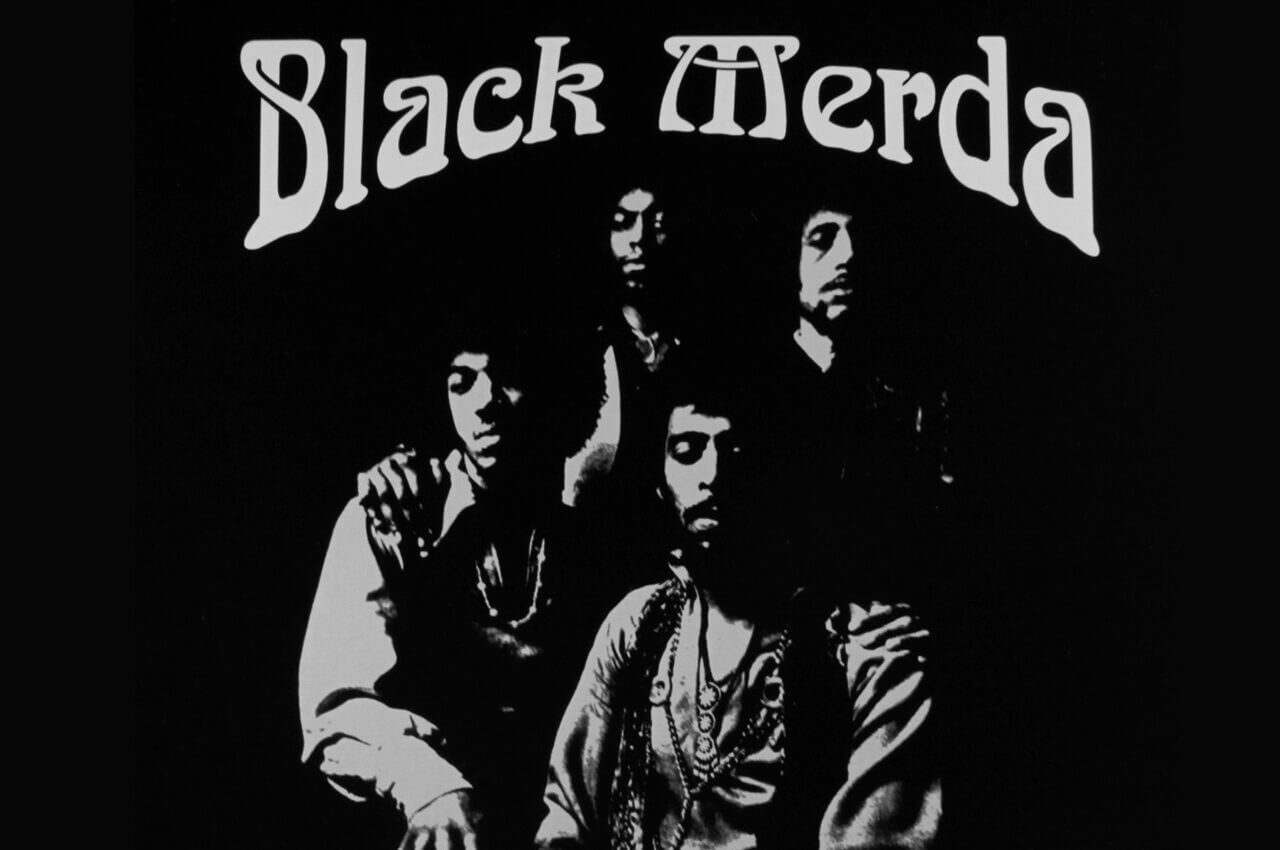 Prophet – Black Merda!
Black Merda (Black Murder) a rock band from Detroit, active from the mid-1960s to the early 1970s and reuniting in 2005. The core band members are guitarist/vocalist Anthony Hawkins, bassist/guitarist/vocalist VC L. Veasey, and guitarist/vocalist Charles Hawkins, plus original drummer/vocalist Tyrone Hite. Hite was a native of Detroit; the Hawkins brothers and Veasey were all born in Mississippi and came of age in Detroit.
Hawkins, Veasey, and Hite originally performed together as the Impacts, then as the Soul Agents backing up Edwin Starr, Gene Chandler, Wilson Pickett, The Spinners, The Artistics, Billy Butler, The Chi-Lites, Joe Tex, Jackie Wilson, The Temptations and other soul/R&B acts affiliated with Motown and Brunswick Records! The Impacts were hired as the backing band for the 1965 single "Agent Double-O Soul" by Edwin Starr.

We're Doin' Our Thing – Black Nasty
Black Nasty's mentor was Johnnie Mae Matthews, a singer who owned several independent Detroit R&B labels, who encouraged her drummer son Artwell Matthews when he formed a band in the mid-'60s with his cousin, bassist Mark Patterson, and friends. Originally called Raw Integrated Funk, there were prominent rock elements at the outset (Ted Nugent was an early member!!), but under the influence of Johnnie Mae Matthews, they broadened their style to include more R&B.

Lil' Red Riding Hood – The Undisputed Truth

Let Me Lay Beside You – Mother Braintree
Cleveland Ohio was a hot spot for soul music in the very early 1970's. One group who found themselves mixing the melting pot of musical styles were Mother Braintree. They seemed to be mixing sounds from Funkadelic, Sly and the family stone, and Hendrix. Whilst still keeping it soulful. They chose their band name whilst on the road touring they travelled through the town of Braintree.

Playlist
I Am The Black Gold Of The Sun – Rotary Connection, Minnie Riperton
Our Lives Are Shaped By What We Love – Odyssey
Strawberry Fields Forever – Richie Havens
Frame Of Mind – The Bar-Kays
Would You Believe In Me – Jon Lucien
Run Charlie Run – The Temptations
Born To Wander – Rare Earth
Buttermilk Bottom – Spirit Of Atlanta
El Soul Condor – Peter Herbolzheimer Rhythm Combination & Brass
California Dreaming – Monophonics
I Just Want To Celebrate – David Ruffin
Sunshine Of Your Love – The 5th Dimension
Rocks in My Head – The 8th Day
See Saw Affair – Cesar 830
Colour Combination – Jack Hammer
Take These Chains – Bloodstone
Prophet – Black Merda!
We're Doin' Our Thing – Black Nasty
Lil' Red Riding Hood – The Undisputed Truth
Let Me Lay Beside You – Mother Braintree
A bit drug-drenched but beautiful baby. by Funkologie on Mixcloud
RELATED LINKS: